iPad 3 Rumors: 'Leaked' Parts Assembled, First Glimpse at Purported Design [VIDEO]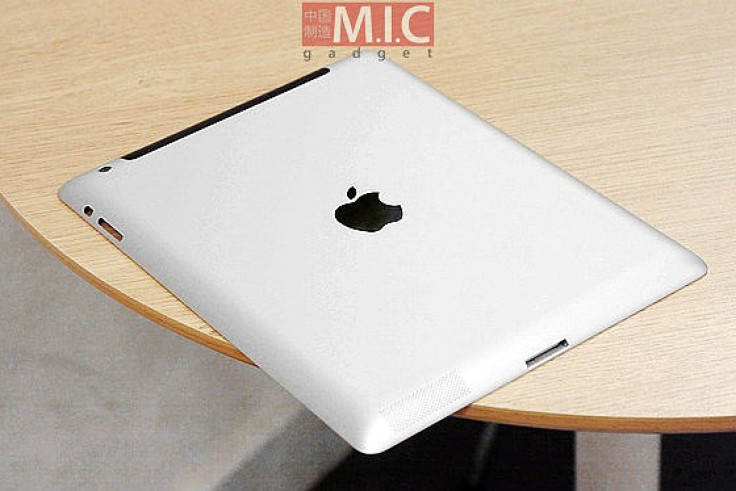 As Apple's special media event Wednesday approaches -- where many expect the company to reveal the iPad 3 -- techies around the world are speculating about what a new Apple tablet device might look like.
One Chinese tech blog, M.I.C. Gadget, claims to have specific details about the design of a new Apple device just days before the big event. The blog has partially constructed what it purports to be the iPad 3, using what it claims to be authentic supplier parts.
The device it has constructed includes mostly casing materials, without any major computer components. The front glass, rear shell, plastic casing and several purported iPad 3 cases from Shenzhen, China, are all shown in tremendous detail in a recent blog post. M.I.C. Gadget has also made a video of all the materials it has gathered (shown below).
According to the alleged leak, Apple will be including a home button on the iPad 3, which fans were not expecting because it was not shown on the invitation to Apple's special event.
The device that's been assembled by M.I.C. Gadget looks strikingly similar to the iPad 2. The blog suggests that the iPad 3 will be thicker than the iPad 2. Tapered edges will help the device feel as though it's not as thick and give it a slightly updated look.
The blog says Apple will be releasing 16GB, 32GB and 64GB models of the iPad 3, which is also what 9to5Mac is reporting. Those numbers are only slightly different from what Digitimes, a Taiwanese publication, reported last week. Digitimes said Apple would offer only 16GB and 32GB versions of the new device.
Readers will also be pleased to know that the price has not increased either, says M.I.C. Gadget, which also suspects LTE will not be integrated into Apple's next tablet device. As indicated in our previous in-depth article [about] Apple's mobile strategy, we said there was a very limited market for LTE at this time.
In addition to constructing what it claims to be the iPad 3, M.I.C. Gadget is also making another big claim: that Apple will introduce a newer version of its set-top box, Apple TV, at its special media event.
Our sources have indicated also that a new Apple TV, at the same price point will be revealed on March 7 as well, says M.I.C. Gadget. We have suspected this as many Apple resellers in China have been complaining of their stock of Apple TVs not being replenished. It will feature a newer processor inside it, the A5x with the lower nanometer manufacturing which makes it run cooler and energy efficient. Our internal sources have confirmed this.
Since the special media event is only days away, we'll only have to wait to find out whether these leaks are real or not. For now, here's the video of the purported photos of the iPad 3 materials.
© Copyright IBTimes 2023. All rights reserved.
FOLLOW MORE IBT NEWS ON THE BELOW CHANNELS