iPad Hacking: Was Obama's iPad Compromised In Antisec Hacking? Is Romney Also A Victim Of Hacking Attack?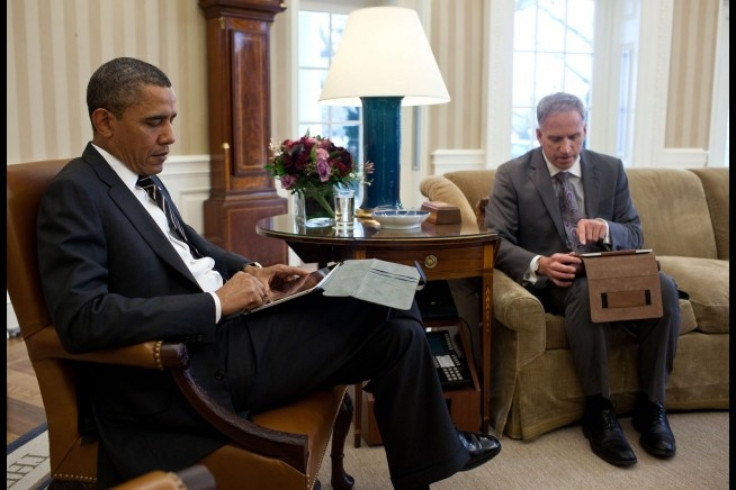 Even as FBI denied Antisec Hacker group's claim that it stole personal identification data of millions of Apple device owners, news of Obama's iPad being compromised is making rounds in technology circuits.
Reports from Mashable indicate that hackers may have laid hands on an unique string of code that pertains to President Obama's iPad.
Initially reported in Razorian Fly, the White House is yet to react to the news report. With the alleged hacking report occurring in a government laptop owned by FBI Special Agent Christopher K Stangl, supervisor, FBI Regional Cyber Action Team, it would do well to have an official word from the White House on the issue.
In the Razorian report, the details of the ID listed on pastehtml.com are shared for the iOS device named "hobamain." It is widely reported to signify the President's name - being a combination of "Obama" and "main," with main representing the middle initial.
It is still not clear how an FBI agent would be in possession of President's iPad UDID and that of 12 million others. Reports from Mashable suggest that it may relate to National Cyber Forensics and Training Alliance (NCFTA) that allows large companies and government agencies to share security information and coordinate with FBI office.
Romney's Tax Returns Stolen?
In an interesting twist of events, another report published in Mashable notes that even Mitt Romney has fallen victim to hacking, with a hacker group claiming to have access to Mitt Romney's tax returns.
Reports from Mashable indicate that Mitt Romney's tax returns are in the hands of hackers, who intend to publish the report by month end if they do not receive a ransom of $1million.
Mashable also noted that Secret Service is probing the incident on grounds of attempts to blackmail a presidential candidate.
© Copyright IBTimes 2023. All rights reserved.