iPhone, iPad Details Leaked By Man Charged With Insider Trading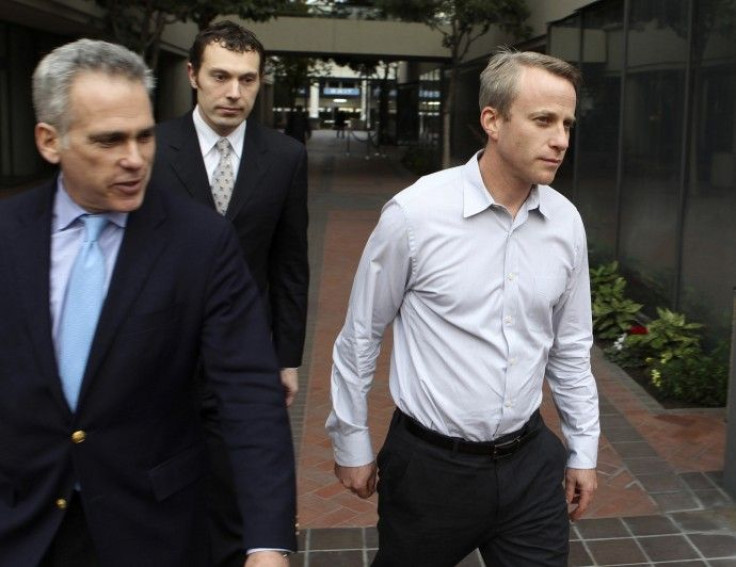 One of the four men arrested for taking part in an insider trading scheme at several major technology firms leaked confidential details of Apple's new line of iPhones and iPads to hedge fund firms, according to the indictments.
The United States Attorney for the Southern District of New York and the Federal Bureau of Investigation charged James Fleishman, Mark Anthony Longoria, Walter Shimoon and Manosha Karunatilaaka with conspiracy to provide confidential information, conspiracy to commit wire fraud and wire fraud. Another at the center of the insider trading scheme, Daniel Devore, agreed to a plea bargain.
According to the complaint, in late 2009-early 2010, Shimoon, an employee at Flextronics, a supplier of electronic components to Apple, provided hedge fund managers with information on the upcoming iPhone 4 and iPad. Shimoon said the iPhone 4 would have two cameras, including a five megapixel autofocus camera and a VGA forward-facing video conference camera.
Shimoon also leaked details about what would eventually become the iPad, which was code-named the K48 at the time. Shimoon said he wasn't involved with the project, but knew about it and speculated it was a reader since it didn't have a camera or wasn't a phone. He also said, You could get fired at Apple for mentioning K48 to the outside world.
Along with advance details about the iPhone and upcoming iPad, he also gave out sales information on the iPod and iPhone to the hedge fund manager. Shimoon was paid $22,000 for consultation services.
Fleishman was sales manager for Primary Global Research, a Mountain View, Calif.-based research firm that provides institutional money managers and analysts with market intelligence. He acted as a liaison between the hedge fund managers and the employees at several tech companies including Dell, Advanced Micro Devices, Flextronics and Taiwan Semiconductor Manufacturing Company.
The complaint says the employees from those companies would act as consultants, and provide inside information such as advance sales figures or upcoming devices to the hedge fund managers, which were clients of Fleishman's firm. Primary Global Research would then pay the consultants for their inside information. The complaint says at times Fleishman would act as a go-between, and other times hedge fund clients would contact the consultants directly. Often, he arranged meetings between the clients and the consultants.
Longoria was a supply chain manager at the Round, Rock, Texas-based AMD. As a consultant, Longoria gave out advanced revenue information to Primary Global Research clients. He gave out specific unit sales forecasts as well, according to the FBI. Longoria was paid more than $200,000.
Karunatilaaka, an account manager for Taiwan Semiconductor Manufacturing Company, provided financial information to clients. He gave information on wafer bookings, which showed how many wafers clients were ordering. Wafers are a thin, round slice of semiconductor material, from which microchips are made. He also provided information on the inventory situation, of various clients of Taiwan Semiconductor. He was paid $35,000.
Devore, who pled guilty and could face a maximum sentence of 25 years in jail, leaked information about Dell's sales and revenue. He also provided confidential information about a few of Dell's suppliers, including Seagate and Western Digital. He was paid $145,750.
The information trafficked by the four 'consultants' went way beyond permissible market research; it was insider information. And the fifth defendant was directly involved in the transfer of inside information from the consultants to hedge funds and other end users. The more than $400,000 the firm paid the four 'consultants,' merely to participate in phone calls with firm clients, is an indication of the value placed on the information. This wasn't market research. What the defendants did was purchase and sell insider information. Our investigation is most assuredly continuing, FBI Assistant Director-in-Charge, Janice Fedarcyk, said in a statement.
The detailed allegations in the Complaint, along with the guilty plea unsealed today, describe criminal conduct that went well beyond any legitimate information-sharing or good faith business practice. Over the next many months and beyond, we will continue to enforce the law, police the market, and protect honest businesses and their shareholders by working methodically with the FBI and SEC to root out corporate corruption and insider trading, Manhattan U.S. Attorney, Preet Bharara, said in a statement.
The FBI's Securities and Commodities Fraud Task Force is handling the case
© Copyright IBTimes 2023. All rights reserved.