Iran To Get S-300 Advanced Missiles As Soon As 2015 - But The System Isn't Unbeatable, Experts Say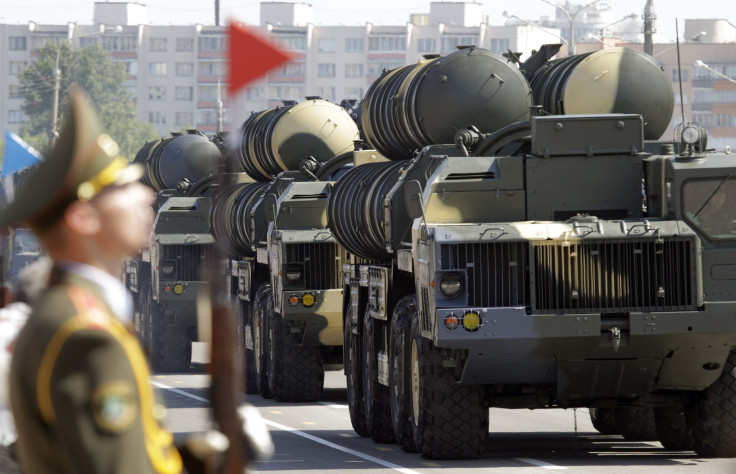 Iran's defense minister will fly to Moscow on Thursday to finalize an $800 million deal for the S-300 missile defense system, a much-feared weapon that is touted as being comparable the U.S.-made Patriot and would pose a formidable threat to any intruder in Iranian airspace. The missiles will arrive in Iran before the end of 2015, the minister said, ending a convoluted process that began in 2007 when Iran first agreed to buy the missiles. That deal was put on hold in 2010 because of international sanctions against Iran, but now Russia has resurrected it in the wake of the preliminary agreement on Iran's nuclear program reached earlier this month.
The Russian decision to go ahead with the sale of the S-300, a missile that can shoot down aircraft and ballistic missiles at great range, has been met negatively in the U.S. and Israel. U.S. secretary of state John Kerry has expressed his displeasure to Russia, while Israel has reacted with consternation. Both nations have considered airstrikes in the past to stop Iran's nuclear program, before the April 2 agreement in Geneva between Iran and six world powers. If the nuclear deal should collapse and the military option were considered again, the S-300 would make it much harder.
The U.S. contends that the sale undermines efforts to reach a final deal on Iran's nuclear future by June 30 this year. Israel's prime minister Benjamin Netanyahu said that giving Iran the state-of-the-art defense system will destabilize the Middle East , despite Russian president Vladimir Putin's assurance to Netanyahu that it's only a defensive weapon.
But while the S-300 is a potent system, it can be beaten, said Dakota Wood, a senior research fellow in defense programs at the Heritage Foundation, a Washington D.C.-based conservative think tank: "It's a very highly regarded system and very tough to defeat," he said, but it's not unbeatable for a determined foe, such as Israel. "No matter how tough the system might be, if there is the willpower they will invest whatever resources are required to defeat it," he said.
And Israel is confident that it would be possible.
Colonel Zvika Haimovich, a senior Israeli air force officer, told Reuters in an interview in 2013 that "though [the S-300] would impinge on our operations, we are capable of overcoming it."
That's optimistic but feasible, Wood said, by using waves of aircraft helped by electronic attacks. "You could locally overwhelm it," he said. "I envisage a multi-sortie strike package that could even be led with cyber-attacks to confuse the defense system. Then you would have a jamming aircraft cloud its range, and behind that are a series of strike aircraft to destroy the S-300."
Russia approached Iran about resurrecting the S-300 sale not long after the interim agreement was reached between Iran and a U.S.-led negotiating team. The deadline for finalizing the deal is Jun. 30, but before then the U.S. Congress will look at the deal and decide if they will support it.
Sanctions against Iran have not yet been lifted; they will only be removed after the June deadline, if a final agreement is reached. The S-300 sale does not violate the sanctions, Russian foreign minister Sergey Lavrov said on Tuesday: "Resolution 1929 of the Security Council, which was approved in 2010, just like any other UN resolutions did not impose any restrictions on deliveries of air defense weapons to Iran," he said. The sale of the S-300 "was done in the spirit of goodwill to stimulate progress at the talks."
However, there are economic interests at stake for Russia, as well as defense interests for Iran. "This deal will no doubt lead to stronger economic ties between the two countries," Alireza Nader, a senior policy analyst at RAND, a Washington D.C.-based think tank, said. It's also part of an international race to get in position to sell Iran goods when the second-biggest economy in the Middle East emerges from decades of isolation.
"Russia wants to put itself in a strong position if the sanctions are lifted and the Iranian defense market opens up again," Nader said. "It's a lucrative market and China, Russia, the UK and Europe will be looking for ways to capitalize on it."
© Copyright IBTimes 2023. All rights reserved.