Iran Nuclear Deal: Senate Committee Leaders Reach Bipartisan Compromise On Congressional Oversight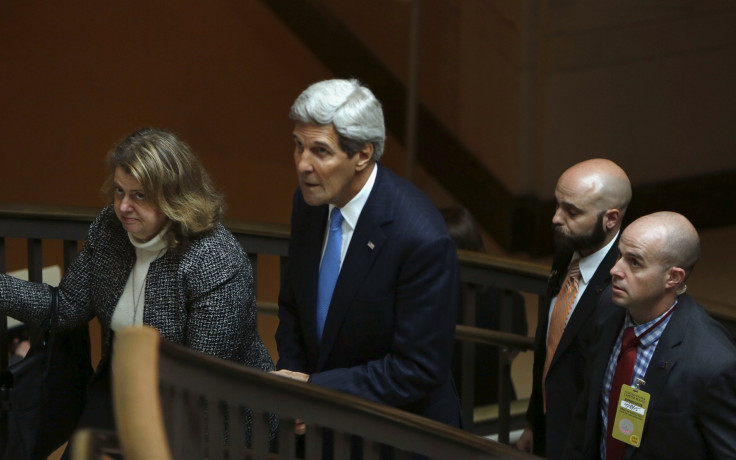 Updated as of 5:01 p.m. EDT: The U.S. Senate Foreign Relations Committee passed a bill Tuesday afternoon authorizing Congress to be directly involved with the proposed Iran nuclear deal. The group voted unanimously 19-0 in favor of an amended version of the bill that now affords Congress the right have its say via a vote before any nuclear deal with Iran is finalized, Reuters reported.
The bill's approval means Congress has 30 days to complete its review process, during which the legislative body must be updated incrementally regarding Iran's compliance. President Barack Obama is also forbidden from waiving any sanctions against Iran during that time period, according to the Associated Press.
The White House said before the Foreign Relations Committee's vote that Obama felt pressure to allow Congress' inclusion. "Maybe they saw the handwriting on the wall," House Speaker John Boehner, R-Ohio, said in response.
Original story: Members of the U.S. Senate Foreign Relations Committee reached a bipartisan compromise Tuesday on a bill to approve Congressional oversight of any formal deal related to Iran's nuclear program. The agreement, which would give Congress a 52-day window to review terms of a final deal, will be placed before the full committee for a vote later Tuesday.
Chairman Bob Corker, R-Tenn., brokered the deal with Sen. Benjamin Cardin, D-Md., the panel's ranking Democrat, the New York Times reported. The compromise shortens the official Senate review period for any Iran nuclear deal from 60 days to 30, but also includes a 12-day window for President Barack Obama to veto a congressional rejection of an Iran deal, as well as an additional 10 days for Congress to override a potential veto.
"We have kept the pure integrity of the process in place," Corker said, according to Reuters. A Democratic aide told the Times the compromise would assure full support for the bill in the Senate.
The agreement, if approved by the full Foreign Relations Committee, would also remove an initial aspect of the bill that called for Obama to confirm every three months Iran had not supported terrorism against the United States or its citizens. Any evidence of such activity would cause economic sanctions removed as part of an international agreement April 2 to "snap back" into place. The compromise removes the possible reimplementation of sanctions related to Obama's reports on Iran. Moreover, Obama would be unable to block Congressional sanctions against Iran during the 52-day review period.
The Obama administration expressed concern about efforts by members of Congress to secure oversight on a final Iran deal ahead of Tuesday's vote and criticized the bill's initial form. "The way the legislation is currently written is something that we strongly oppose. But, again, we continue to have extensive conversations with members of Congress on Capitol Hill," White House press secretary Josh Earnest said Monday, according to Fox News.
International leaders have set a June 30 deadline to reach a formal agreement on terms of a deal to stem Iran's nuclear program. Representatives from Iran, the United States, France, Germany, Britain, China and Russia agreed to a framework earlier this month that called for Iran to destroy 98 percent of its uranium stockpile and many of its nuclear centrifuges in exchange for the removal of sanctions.
© Copyright IBTimes 2023. All rights reserved.
FOLLOW MORE IBT NEWS ON THE BELOW CHANNELS