Iran-US Navy Dispute Live Updates: Iranian Military Holds 10 American Sailors On Iran's Farsi Island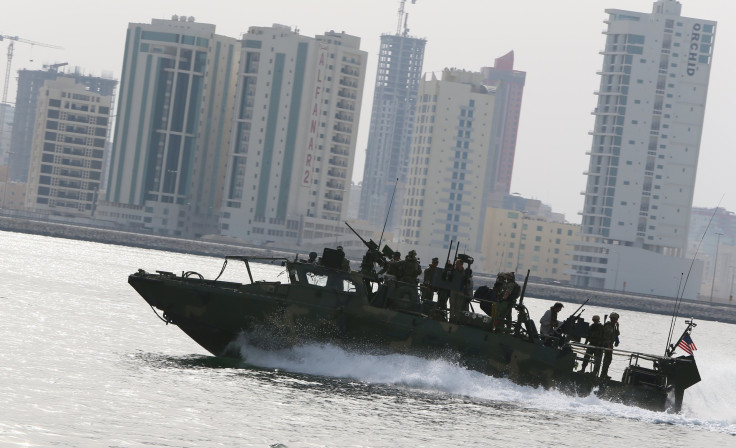 UPDATE: 10:35 p.m. EST — President Barack Obama didn't mention 10 American sailors arrested by Iran Tuesday hours before his final State of the Union address during his speech. He did, however, champion the Iranian nuclear deal that his administration led negotiations on.

"As we speak, Iran has rolled back its nuclear program, shipped out its uranium stockpile, and the world has avoided another war," the president said.
Republicans had urged Obama to speak out against Iran after the Iranian military stopped two U.S. Navy boats.
UPDATE: 8:30 p.m. EST — Defense officials said Tuesday evening that Iran planned to return 10 U.S. sailors who had been taken into custody to a U.S. Navy boat in international waters early Wednesday, Reuters reported.
Republican politicians and presidential candidates, who largely opposed President Barack Obama's Iran nuclear deal, were using this latest incident to criticize the president. Donald Trump weighed in on the situation Tuesday.
"It's just an indication of where the hell we're going. I mean hopefully they get released and fast," Trump said at a campaign rally in Iowa, according to Reuters.
UPDATE: 7:45 p.m. EST — House Speaker Paul Ryan said President Barack Obama should "update the American people" after 10 U.S. Navy sailors were detained by Iran on Tuesday. The international crisis unfolded hours before Obama was scheduled to give his final State of the Union address to Congress at 9 p.m. EST.
"Our top priority is the safety and security of our servicemembers detained by Iran," Ryan said in a statement. "I am closely monitoring the situation, and I hope the president will soon update the American people. As we gather tonight for the State of the Union, let us pause to thank all the brave men and women around the world working to protect this great country."
UPDATE: 7:03 p.m. EST — Iran's Islamic Revolutionary Guard Corps confirmed Tuesday it had seized two U.S. Navy boats and 10 sailors. It said the sailors were safe and that France's Charles de Gaulle aircraft carrier was stationed nearby when the U.S. boats were seized, Reuters reported. The American sailors were on board two riverine, or 38-foot long, high-speed patrol boats used by the U.S. Navy and Marines to patrol rivers and littoral waters.
UPDATE: 6:15 p.m. EST — Republican presidential candidate Jeb Bush responded to the fact that two U.S. Navy boats remained in Iranian custody early Tuesday evening. The former governor of Florida said the situation revealed a "humiliatingly weak" Iran policy on the part of President Barack Obama.
UPDATE: 6:05 p.m. EST — Republican leaders and social media denizens opposed to an deal between world leaders and Iran that would lift international sanctions have urged Obama to mention Iran during his State of the Union speech Tuesday night, after the Iranian military stopped two U.S. Navy boats and accused 10 American sailors of snooping. Some critics called on Obama to delay the speech until the sailors were freed.
UPDATE: 5:50 p.m. EST — Two small U.S. Navy boats that were stopped by Iran Tuesday may have run out of gas or had mechanical problems when they drifted into Iranian territorial waters in the Persian Gulf, the Washington Post reported. The ships were within 12 nautical miles of Iran when they broke down. It was unclear how the American crew and vessels were "picked up" by Iran, according to a Defense Department official. Fars, an Iranian state news agency, said 10 sailors had been arrested and were suspected of "snooping," the New York Times reported.
UPDATE: 5:20 p.m. EST — A Pentagon official told Reuters that Iran is holding nine men and one woman sailor from the two Navy vessels it seized Tuesday. The U.S. government is still working with Iran to get the sailors released.
UPDATE: 4:45 p.m. EST — Secretary of State John Kerry called Iranian officials in Tehran Tuesday to explain that two U.S. Navy vessels had mistakenly strayed into Iranian territorial waters in the Persian Gulf, NBC News reported. The two ships were on a training exercise when they were seized by Iranian military forces, the Navy says.
Iranian Foreign Minister Javad Zarif told Kerry that the U.S. sailors who had been aboard the ships would soon be returned and would be able to continue their training, a U.S. official told Reuters.
Original story:
Iranian forces are holding 10 American sailors in custody Tuesday after two U.S. Navy boats moving between Kuwait and Bahrain reportedly drifted into Iranian-claimed waters. The sailors are being held on Iran's Farsi Island in the middle of the Persian Gulf, senior U.S. officials told NBC News.
The boats were holding a training exercise when they lost contact with the U.S. command, Pentagon spokesman Peter Cook told the Associated Press. "We have been in contact with Iran and have received assurances that the crew and the vessels will be returned promptly," Cook said.
Officials said it was unclear whether the 10 American sailors on one of the boats had gone into Iranian waters before being captured, NBC News reported. The White House said it was working to resolve the situation, Reuters reported, and hoped to return the crew to its normal work soon.
Sen. Barbara Boxer, D-Calif., said on MSNBC that the incident would be resolved soon between U.S. and Iranian officials. "Hopefully this will be resolved, and it won't be an issue that we're talking about in a couple of hours," she said.
The Gulf incident is the latest sign of heightened tensions between Iran and the U.S. as economic sanctions against Tehran are soon to be lifted under its nuclear deal with world powers. Last week, the U.S. Navy released black-and-white video that showed an Iranian Revolutionary Guards vessel firing unguided rockets at U.S. warships, including the aircraft carrier USS Harry S Truman, in the Strait of Hormuz on Dec. 26. A U.S. Central Command spokesman at the time called the Iranian actions "highly provocative, unsafe and unprofessional." Iran has denied that it launched the rockets, with a Revolutionary Guards spokesman calling the "false" accusation was "akin to psychological warfare."
Iran and six world powers, including the United States, brokered a deal last year that requires the U.S., European Union and United Nations to lift certain sanctions against Tehran in exchange for Iran accepting limits on its nuclear program. Once the sanctions are lifted, Iran is expected to purchase military equipment and grow its economy by selling oil.
Yukia Amano, director general of the International Atomic Energy Agency, could sign off this week on Iran's progress toward dismantling machines that process nuclear fuel and shipment of uranium stockpiles. But legislators, including Sen. Chris Coons, D-Del., a member of the Senate Foreign Relations Committee, have urged President Barack Obama to move forward with new sanctions against Iran after Tehran carried out recent ballistic missile tests.
© Copyright IBTimes 2022. All rights reserved.
FOLLOW MORE IBT NEWS ON THE BELOW CHANNELS