Iranian Jews In U.S. Refuse Invitation To Meet With President Rouhani; Will Obama Do Likewise?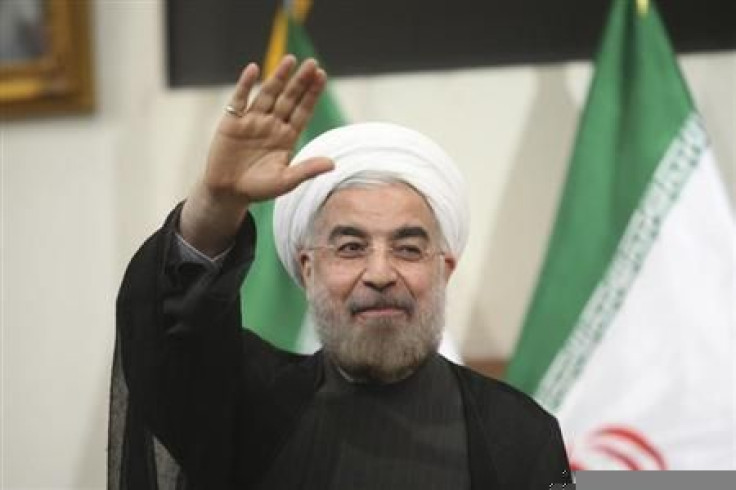 Iranian Jews in the United States have rejected an invitation to meet with newly elected Iranian President Hassan Rouhani who is appearing at the United National General Assembly in New York this week.
According to a report in Jewish Week, Iranian Jewish leaders in New York and Los Angeles decided to decline the president's invitation after "considerable discussion" over the weekend.
"The impetus of our decision was that when the president had a chance to redeem himself on the question of the Holocaust, he did not do that," a member of the Iranian American Jewish Federation (IAJF) in New York told Jewish Week, referring to an incident where a US journalist asked Rouhani if he believed the Holocaust actually occurred – the president avoided a direct response.
Moreover, Sam Kermanian, senior adviser to the IAJF in Los Angeles, also noted that Iran's foreign minister Mohammad Javad Zarif made a similar response when asked about the Holocaust – he said that Iran condemned all killings, including "the murder of Palestinians by Israelis."
Kermanian declared: "To compare accidental deaths to systematic murder shows that they [Iranian leaders] don't understand the world's sensitivities to such a horrific event."
The IAJF also criticized Rouhani for bringing along Iranian MP Siamak Moreh Sedgh, the sole Jewish member of Iran's Majlis (parliament), because Sedgh has a history of criticizing Israel and Zionism – suggesting Sedgh is being used as a propaganda tool.
An official at the Iranian Jewish Women's Organization in Los Angeles declined to comment on the arrival of Rouhani or Sedgh at the Un to International Business Times.
In addition, a member of the Beth Hadassah Synagogue in Great Neck, Long Island – which serves a large Jewish-Iranian community – also declined to comment on the arrival of Rouhani and Sedgh at the UN. But he cited comments made by Shahram Yaghoubzadeh, president of IAJF in Great Neck, which indicated that as long as Rouhani made statements suggesting the Holocaust did not happen, there is no point in meeting with him or engaging in any kind of dialogue.
Sedgh, a 48-year-old medical doctor, succeeded Maurice Motamed, in 2008, as the sole Jewish MP in the Teheran parliament. Sedgh is a fervent anti-Zionist and fierce critic of Israel (at least in public). In a 2009 speech, he thundered: "[Iran's] Jews will direct their ... cries against all servants of imperialism and Zionism." The year before that, he participated in a rally outside the U.N. office in Teheran, condemning "Israeli war crimes and the slaughter of the innocent people in the Gaza Strip."
The Times of Israel reported that Sedgh even described the Jewish state as "inhuman" for its treatment of Palestinians.
But Rouhani is likely seeking to move away from the violent and contentious rhetoric of his predecessor, Mahmoud Ahmadinejad -- who repeatedly condemned Israel and the Jews, while denying the Nazi Holocaust. Rouhani has been characterized as a "moderate" and has reportedly hinted that he is willing to negotiate with respect to Iran's nuclear program – something that Israel and its hard-line prime minister Benjamin Netanyahu has warned would spell the end of the Jewish state.
However, the National Iranian American Council, an organization based in Washington DC, has generally lauded Rouhani and his apparent attempts to start a new chapter in Iran's relations with the west.
"Since taking office in August, Iran's new president Hassan Rouhani has sent positive signals and undertaken actions that suggest a nuclear compromise is achievable, U.S.-Iran tensions can be resolved, and the human rights situation in Iran can significantly improve," NIAC said in a statement. "While far more needs to be achieved, such small steps can create a virtuous cycle that helps overcome the mutual distrust on each side."
Meanwhile, at the United Nations, speculation is rising that Rouhani could potentially meet with U.S. President Barack Obama, at least briefly on the sidelines of the Assembly. Rouhani is scheduled to speak before the Assembly a few hours after Obama's own speech Tuesday morning. If they do meet, it would mark the first such direct personal encounter between the leaders of the US and Iran in more than thirty-five years.
"It would be unprecedented for the Iranian president to even shake hands with the U.S. president and vice versa," Hooman Majd, an Iranian-American author and commentator, told NBC News.
"It's possible that will happen this time around. Somebody would have to seek out the other party."
The White House has not ruled out any such historic meeting, NBC reported, but nothing definitive is planned.
U.S. deputy national security adviser Ben Rhodes told reporters on Friday that although Obama has exchanged letters with Rouhani there are no plans to meet either formally or informally at the UN Assembly.
Jamal Abdi, an official with NIAC, told IB Times that Rouhani has a "limited window" to prove that his path of negotiation and compromise with the US can yield dividends for Iran.
"Hardliners in Iran are eager to close this window as quickly as possible and return to the old way of doing business," he said.
"Rouhani must come back from New York with something to show for the conciliatory words and actions he has taken so far in order to extend the lifeline of his moderate approach and maintain the flexibility he has been given by the Supreme Leader [Ayatollah Ali Khamenei] for this bold experiment."
Abdi indicated that a meeting with Obama, combined with Obama's very positive speech, can insulate Rouhani from attacks at home and show that his approach is working.
"The people of Iran would welcome such a historic meeting as a sign of more positive change to come,:" he added.
But Rouhani has to be careful.
Rouhani has tested the confines of what Iranian leaders are allowed to say and do in an attempt to repair the image that was badly damaged by his predecessor Ahmadinejad, Abdi added.
"Part of this was his Rosh Hashanah tweets," he said. "Bringing Sedgh with him is a signal to the world that Rouhani is not Ahmadinejad, whose rhetoric inflamed tensions with Iran's Jewish parliamentarian."
Israel's official representatives at the U.N. said they will boycott Rouhani's speech, reported Ynet, an Israeli news website.
But according to The Guardian newspaper, Catherine Ashton, the foreign policy chief of the European Union, said that Iran's foreign minister Zarif will meet with U.S. Secretary of State John Kerry on Thursday – the first ministerial discussion between Tehran and Washington since 1979, when an Islamic Revolution overthrew the Shah and disrupted diplomatic ties between the two nations.
The Jews have lived in Iran for almost three thousand years – in the 20th century, the Jewish population in the country reached a peak of about 150,000, in 1948. The Jewish community, still believed to be the largest in the Middle East after Israel, dwindled following the Khomeini revolution, as thousands of Jews fled to Israel, Europe, Britain, Australia, the United States and Canada.
There are at present an estimated 25,000 Jews living in Iran, according to many sources, including the Iranian Jewish Committee, (mostly in Teheran and Isfahan).
FOR FREE to continue reading
✔️ Unlock the full content of International Business Times UK for free
offer available for a limited time only
✔️ Easily manage your Newsletters subscriptions and save your favourite articles
✔️ No payment method required
Already have an account?
Log in
© Copyright IBTimes 2023. All rights reserved.