Iran's Nuclear Progress In Dispute: Merkel Refutes Netanyahu's Call For Preemptive Strike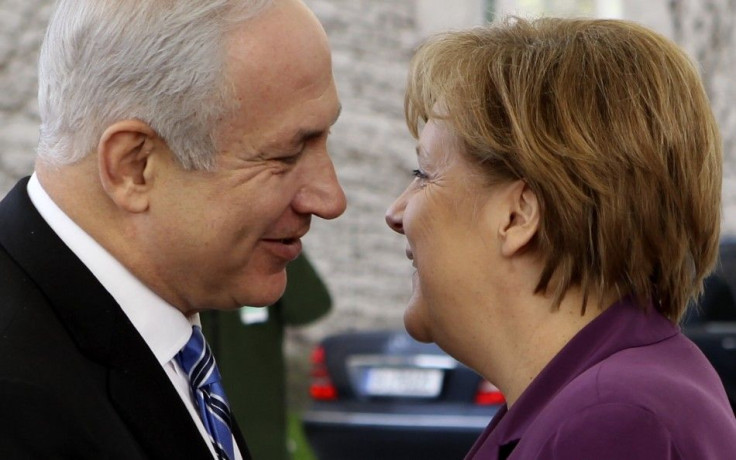 German Chancellor Angela Merkel said on Monday that Iran's pursuit of nuclear technology posed a global threat, but disagreed with Israeli Prime Minister Benjamin Netanyahu's assertions that military intervention is yet necessary.
The dispute is one more indication of the major differences in opinion among world powers, regarding not only Iran's progress in terms of nuclear weapons development but also the timing and necessity of a pre-emptive military strike against nuclear facilities there.
"I support a political solution ... and I believe that we are not at the point where the search for political solutions has been exhausted," said Merkel to a gathering of reporters in Berlin.
But Netanyahu maintains there is no time to waste.
"[The Iranians are] moving very rapidly to completing the enrichment of the uranium that they need to produce a nuclear bomb. In six months or so they'll be 90 percent of the way there," he said during an interview with CNN on Sunday.
Iran has long maintained that its nuclear development is for peaceful purposes only.
Though Israel and Germany have had only limited official interactions in recent months, private communications may have increased since politicians from Netanyahu's hawkish Likud party began intensifying their anti-Iran rhetoric. One senior Israeli told Haaretz newspaper that Merkel called Netanyahu in mid-August to ask him not to launch a unilateral attack against Iran, though this was never confirmed by any officially authorized spokespersons.
Germany's relative economic strength and military might would make it a valuable ally for Israel, should Jerusalem decide to pursue a strike against Iran's nuclear facilities. But Netanyahu is aiming the bulk of his rhetoric at the United States, Israel's strongest partner and avowed protector.
The relationship between Netanyahu and U.S. President Barack Obama has grown icy in recent weeks, since the latter is disinclined to intervene in Iran before it is absolutely necessary.
Netanyahu appeared on two U.S. television talk shows on Sunday, calling on the Obama administration to set up 'red lines' that will delineate exactly when the U.S. will intervene militarily to stop Iran's progress toward nuclear capability.
"You have to place that red line before them now, before it's too late," he said during an interview with NBC.
Obama and his cabinet have specified their 'red lines' in the past. Panetta used that exact phrase as early as January, during an interview with the 'Face the Nation' program on CBS. He said Iran had not decided to develop a nuclear weapon, but was attempting to attain nuclear weapons capability.
"That's what concerns us," he explained. "And our red line to Iran is, do not develop a nuclear weapon. That's a red line for us."
The key difference, then, is that Netanyahu favors an intervention before such nuclear capability is reached. For the United States, actual weapons development efforts would be the tipping point.
Panetta's statement came after a tough round of sanctions against Iran, imposed by the United States and Europe following a November report from the International Atomic Energy Agency that criticized Iran's unwillingness to allow inspections at some of its nuclear facilities.
An even tougher round of sanctions was imposed in June and July of 2011, following a March IAEA report that suggested Iran was on the nuclear weapons track.
The latest IAEA report in late August heightened suspicions yet again; it found that Iran had doubled the number of centrifuges to its nuclear bunker at Fordow, which will allow the facility to enrich more uranium over a given time period. But the centrifuges themselves are far from modern -- they are based on a decades-old model that is notorious for glitches.
This suggests that funding its nuclear development may be increasingly challenging for Iran, where Western sanctions have been taking a heavy toll in recent months. The Islamic Republic's crude exports are lower than they have been in two decades. The cost of living is on the rise, and Iranian currency has dropped to 25,650 rials for every U.S. dollar, according to Reuters.
Merkel's comments on Monday speak to her ongoing faith in these efforts, despite Netanyahu's impatience.
© Copyright IBTimes 2023. All rights reserved.