In Iraqi Election, Prime Minister al-Maliki Bets All On Fight Against The Insurgency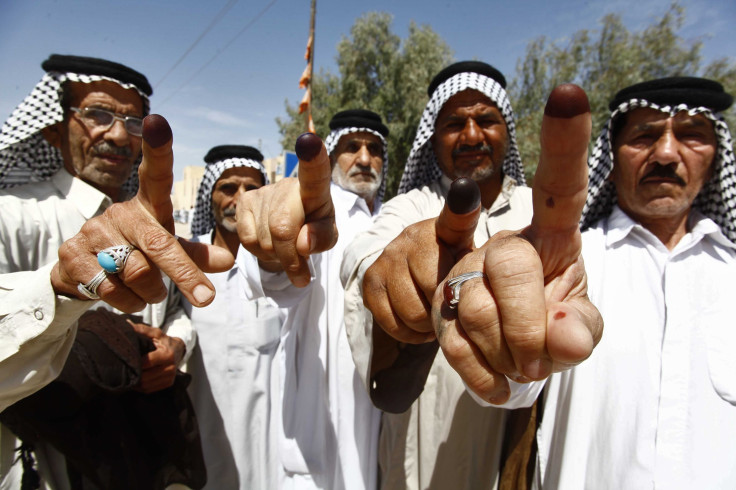 Iraqis went to the polls Wednesday for the first parliamentary election since most American troops left the country in 2010. But as Iraq moves toward more democracy, the increasingly violent situation on the ground is threatening to turn the formation of a new government after the election into a complex, drawn-out process.
According to U.N. data, 8,868 people were killed in violent incidents in 2013, Iraq's highest annual death toll in five years. Amid this level of violence, the fractionalization of Iraqi politics will also limit the success of political dialogue and negotiations to form a government.
Around 9,040 candidates are vying for 328 parliamentary seats. Current Prime Minister Nouri al-Maliki, leading the State of Law Coalition, is seeking another term in office, while fighting the violence and trying to stifle an al Qaeda-led insurgency in Anbar Province. Anbar is the hotbed of resistance by Iraq's Sunni Muslim minority, while al-Maliki, a Shia, leads a Shiite-dominated government.
According to estimates by the Iraq Body Count, a private organization that maintains the world's largest public database of violent civilian deaths since the U.S.-led invasion in 2003, over 4,000 civilians have been killed since January, 991 in April alone.
Security issues have become an even bigger concern in recent weeks because of the uptick in fighting in Anbar , which has canceled voting in some areas. The Iraqi Army is fighting The Islamic State of Iraq and the Levant, a group that pledged allegiance to al Qaeda in 2004, which recruited thousands of Sunnis angry with the Shia-led government to fight with them. The group took over the city of Fallujah in February.
The resurgence of ISIL in Anbar could help Maliki in the election. Between March of 2003 and October last year, 10,120 people were killed in the province -- fully 8 percent of the total number of deaths in Iraq since the U.S.-led invasion.
Maliki has used his campaign slogan "Together, we defeat terrorism," to try and assure that he will take "blood for blood" to beat ISIL.
"The appeal of al-Maliki is that he has been the strongman opposed to al Qaeda in a very significant way," Austin Long, a professor at Columbia University and a former consultant on Iraq for RAND Corporation, said.
Doctors Without Borders reported that at least 380,000 people have fled their homes in Anbar. In the last month, more than 18,000 have sought refuge in Tikrit, the capital of neighboring Salah al-Din Province, where the organization is assisting them.
Fabio Forgione, head of the organization's 220-strong Iraq mission, said 60 percent of those affected by the violence are internally displaced, while 40 percent have fled to places such as Salah al-din Province and Kurdistan.
The violence in Anbar Province, though it has escalated in recent weeks, has always been an issue in Iraq. On multiple occasions, President Barack Obama described al Qaeda as having been "decimated" or "on the path to defeat." But in the country, that is far from true.
"The big concern was that we are leaving and grievances between al Qaeda and Iraq had not been solved. Various Iraqis that I worked with had been assassinated," Long said. "That political compromise has not happened. These clashes in Anbar Province did not come out of nowhere."
The violence in Anbar seems to be moving toward central Iraq and Baghdad, a tactic Long said is typical of al Qaeda. In 2008 al Qaeda posed a big security risk to the country, but car bombs and other attacks occurred outside of Baghdad. Now, the attacks seem to be moving into the capital through the beltway roads around the city.
Nearly 33 were killed last week at a sports stadium in Baghdad during a campaign event for supporters of Iran-backed Asaid Ahl al-Haq (AAH), according to the Associated Press. ISIL took responsibility for the attack. Asaid Ahl al-Haq is a Shia military group operating in Iraq and Syria, and has close connections to Iran's Quds Force, a special force unit of Iran's Revolutionary Guard.
Elections in Iraq may intensify the security risk in the country but, according to a study from Harvard's Kennedy School, the past three elections in Iraq, in 2005 and 2010, cemented the nation's transition from an authoritarian political system to a new political order pushing for democracy. "Iraq's elections, while not ensuring a democratic Iraq, have been an important vehicle for bringing alienated groups into the political process," the report said.
But analysts say the lead-up to this election divided Iraq even further. Not only has it deepened sectarian divides, it has also deepened divisions within the parties.
There is no impetus for unity in Iraq, Long said. For decades the country's two Islamic factions, the Sunnis and the Shias, have fought each other for political power, and that division has been reflected in recent election history. In the first parliamentary election won by al-Maliki, a member of the country's Shiite majority, the Sunni parties were not unified and Shia parties were. The reverse situation occurred in the next election, Long said. This time around, confusion may even be greater.
"Now it looks like everyone is fragmented, there is no unity," he said. "Rather than agree to be together beforehand, they are going to run and see how much they can get and then negotiate from there. It doesn't say a lot about the possibility of grand political compromise."
As for the electoral process itself, it promises to be freer and more fair than many Middle Eastern votes. Iraq's electoral commission has approved 667 foreign observers to monitor the election. Twenty of them are from the U.S.-based National Democratic Institute, whose regional director for the Middle East and North Africa, Leslie Campbell, said "elections in Iraq since 2005 have been reasonably well run. They have an electoral commission, competing parties and a relatively free media." But, Campbell said, "The problem with Iraq is security."
© Copyright IBTimes 2023. All rights reserved.