Bomb Explodes At An Election Rally For Asaib Ahl al-Haq Group In Baghdad,Iraq, Kills 33 people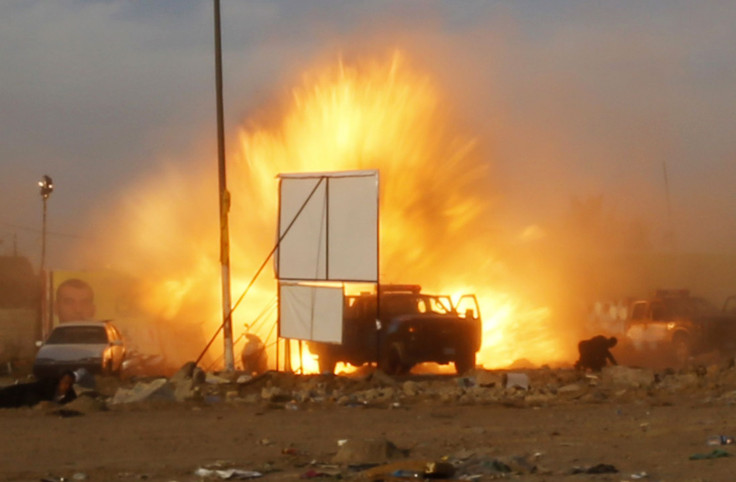 Nearly 33 people were killed Friday at a sports stadium in Baghdad, Iraq, during an election campaign for supporters of a Shiite group, when a car bomb exploded in the area.
The Islamic State of Iraq and the Levant, a breakaway group from al-Qaida, took responsibility for the attack, which took place at the Industrial Stadium, where close to 10,000 people had gathered to support the Iran-backed Asaib Ahl al-Haq group, according to the Associated Press. The Asaib Ahl al-Haq group reportedly said on its website that the bombing was to avenge the death of Sunni Muslims and their displacement from their homes. The attack comes just days before the parliamentary elections in the country, slated for April 30.
"This is a desperate act that will not stop us from moving on and challenging. They wanted to send us a message and they did, but that will not deter us," Wahab al-Taie, a senior official from Ahl al-Haq said, according to the BBC.
Supporters of Asaib Ahl al-Haq had conducted deadly attacks against U.S. troops before they left Iraq in 2011, and the group had also claimed responsibility for kidnapping a British contractor and his four guards in 2007. The group is reportedly sending fighters to Syria and supports the Syrian President Bashar Assad.
"To those that are defending Iraq in Syria, because they are fighting there the enemies of Iraq, I tell you all," Qais al-Khazali said at the rally before the bombs went off, according to the New York Times, adding: "Congratulations for having the honor to fight there. Congratulations for making history."
More than 9,000 candidates will be competing for 328 parliamentary seats in this year's elections, which will be the first after the U.S. troops withdrawal in 2011. But voting will not be possible in parts of Sunni-dominated Anbar province, as security forces are still battling Islamist and tribal militants there.
According to data provided by the U.N., more than 8,500 people were killed in 2013 by the attacks in Iraq, and more than 1,400 people were killed in the first two months of 2014, Al Jazeera reported.
© Copyright IBTimes 2023. All rights reserved.