Iraqi Forces Torture Child With Hammer For ISIS Information: In War On Islamic State, Is Iraq Torturing Innocent Civilians?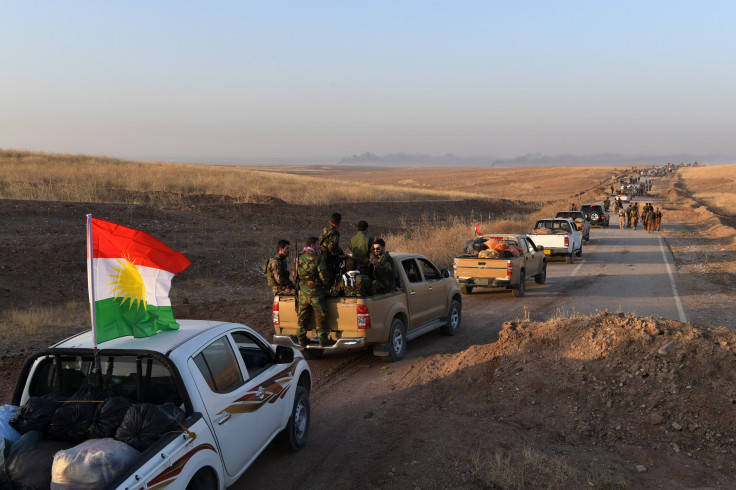 Disturbing and graphic footage posted to social media allegedly shows Iraqi security forces torturing and interrogating young children as they attempt to retake Mosul from the Islamic State terror group, according to Daily Star. The report says videos posted on Twitter depict Iraqi soldiers, who are working with Kurdish militias and the United States to drive the militants also known as ISIS out of one of its strongest remaining footholds, of torturing children who look "no older than eight" years old and of hitting one boy with a hammer in the knee cap before dropping a concrete block on his head.
Another clip shows a child tossed into the back of a truck after he was hit in the head with a rifle, while another depicts a soldier asking a boy if he is an ISIS member. The boy answers but then another soldier tells him to "shut up or else I will kill you."
The veracity, or authenticity of the footage, has not been confirmed, according to Daily Star. The videos are extremely graphic and should only be watched at the viewer's discretion.
The videos come only days after human rights group Amnesty International accused Iraqi forces of torture and "unlawful killings" during battles in Tikrit last year and Falluja this year, CNN reported. On Monday, Amnesty reportedly accused Shia groups of targeting Sunni-Arab men in "revenge" attacks. The report was based on interviews with 470 people in July and August.
"As the battle to retake Mosul gets underway, it is crucial that the Iraqi authorities take steps to ensure these appalling abuses do not happen again," Philip Luther, Amnesty's research and advocacy director for the Middle East and North Africa, said according to CNN.
"The Iraqi authorities must exercise effective command and control over militias, and they must ensure that personnel implicated in past violations do not take part in the Mosul operations."
Iraq Prime Minister Haider Al Abadi told reporters he had heard of Amnesty's report but hadn't read it.
© Copyright IBTimes 2022. All rights reserved.
FOLLOW MORE IBT NEWS ON THE BELOW CHANNELS