Ireland Legalizes Abortion… Sort Of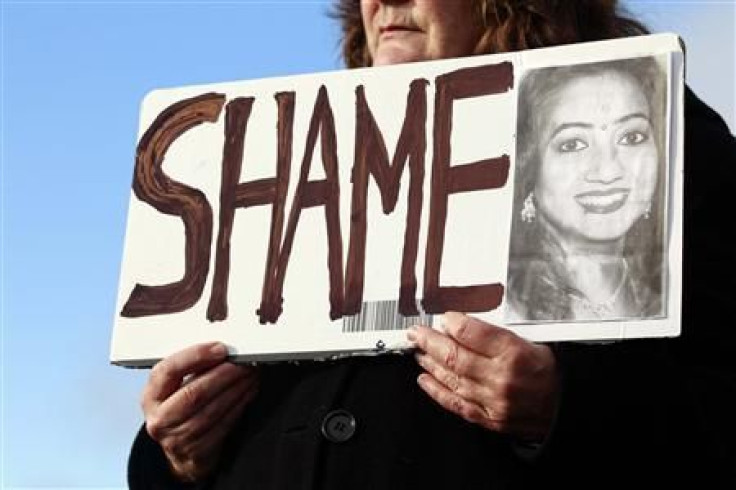 Savita Halappanavar, a 31-year-old Indian-born pregnant woman living in Ireland, died last October in a Galway hospital three days after nurses and doctors refused, due to the country's strict laws concerning abortion, during the 17th week of pregnancy. She had complained of severe back pains and worried she would miscarry. She died from sepsis -- a blood infection -- as well as multiple organ failure. Her death triggered protesting across Ireland, India, England and many other countries by those who were outraged that she was denied the right to have an abortion even though her life was endangered. Many said that this death could have been prevented.
At the time, overwhelmingly Catholic Ireland was one of the few remaining nations in the European Union where abortion is essentially illegal. More than 20 years ago, the Irish Supreme Court ruled that abortions were allowed only when the mother's life was in danger -- but this clause has rarely been applied. Now, ironically, it took the death of an Indian woman to force the Irish government to seek to reform its near-total ban on abortion. After a bitter campaign waged by some church officials and anti-abortion campaigners last Friday, the Irish Parliament passed the Protection of Life During Pregnancy Bill to permit abortions in limited circumstances (with a decidedly large majority of 127 votes in favor, versus 31 against) when the mother's life is believed to be in danger.
Sinead Ahern, spokeswoman for Choice Ireland, a pro-abortion group, called the bill's passage "very historic" and a "huge step forward" for Ireland, according to NBC News. "The church had a huge amount of control over the state. There's been a huge fear from the government to even address this issue at all," she said. "[The bill] really does show the massively decreased influence of the church and very powerful right-wing forces on the Irish government." But the bill doesn't allow for abortions in the cases of rape, incest, fetal abnormality and various other conditions. On the other hand, it will permit a termination of pregnancy if giving birth would raise the risk of the mother suffering from some kind of illness, other medical emergencies or even trigger thoughts of suicide (subject to evaluations by medical professionals like psychiatrists and obstetricians). Opponents of abortion now fear that this bill will ultimately lead to abortion-on-demand -- for now, they worry that pregnant women will, among other things, simply pretend to be suicidal in order to get an abortion.
Caroline Simons, legal consultant to the Pro Life Campaign, an anti-abortion group, lamented: "What this means is that the government has, for the first time, legislated to directly and intentionally end the life of a human being in law. That's never, ever been done before." She added such a bill isn't even necessary. "If it was about saving women's lives, no one would oppose it," Simons said. "Under existing law, every woman is entitled to life-saving medical treatment. But the new Bill allows abortion for a threat of suicide. That's not good medicine. Abortion doesn't prevent suicide. It destroys a child. It increases risks to women's mental health." Another anti-abortion activist, Rita Daly, who protested outside the Dublin parliament during the debate, told Reuters: "This [bill] is a terrible crime on the heart and soul of this nation. This is the intentional killing of our children, our flesh and blood."
The bill may not even become law, at least not in its present form; in fact, it still must go through the Irish Senate and then be signed into law by President Michael D. Higgins (who may alternatively send it back to the Supreme Court to determine its constitutionality), according to Irish TV station RTE. In the meantime, the battle over abortion has become extremely divisive and bitter. In the weeks up to the bill's arrival at Parliament, Prime Minister Enda Kenny received letters written in blood warning him not to support the legislature. Undaunted, the prime minister said that any member of his government who would vote against the abortion bill would be sacked, thereby costing the job of Lucinda Creighton, his former minister of state for European Affairs. "When it comes to something that is essentially a matter of life and death, I think it is not really possible to compromise," Creighton said in comments broadcast on Irish television.
Historically, Irish women and girls went overseas (sometimes at great financial cost and physical discomfort) to obtain legal abortions. According to the Family Planning Association, a British charity, 4,000 women from Ireland went to the United Kingdom to terminate their pregnancies in 2012. Since 1980, more than 156,000 women made that same journey. In the past, an Irish woman who violated the law by securing illegal (and often dangerous) abortions within Ireland itself could face up to 14 years in jail. In contrast to Ireland, abortions on demand are available almost everywhere in Europe during the first trimester of a pregnancy. Poland, Malta and Cyprus are among the remaining countries that either make it difficult to have an abortion or prohibit it outright.
© Copyright IBTimes 2023. All rights reserved.
FOLLOW MORE IBT NEWS ON THE BELOW CHANNELS