ISIS Accepts Boko Haram's Pledge Of Allegiance: This Is The 'Welcome Package'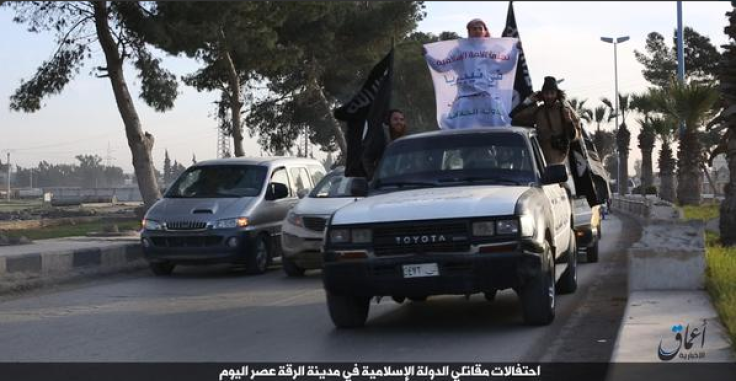 Boko Haram, the terror group based in Nigeria, has long been a supporter of the Islamic State group, and its pledge was officially accepted Thursday, turning it into the third and largest jihadist group outside Iraq and Syria to become an annex of the so-called caliphate. The alliance has been a major propaganda win for both groups, at a time when both have suffered territorial losses since the start of 2015.
"It's been a courtship that has been a long time coming," said Peter Pham, director of the Atlantic Council's Africa Center. "It's as close to a marriage of equals as we've ever seen."
Though it is a much more established group, Boko Haram's "welcome package" from the Islamic State group is likely to consist of the same benefits that previous groups whose allegiance was accepted -- one in Egypt and the other in Libya -- tapped into. It will likely result in a stronger Boko Haram, allowing the militant group to access a pool of foreign fighters, a sophisticated propaganda campaign and an army of social media disseminators.
Boko Haram is one of the deadliest terror groups active today, but has only recently begun to publish its own reports of its attacks. The group created its own media house in January and has begun tailoring its content to resemble the brutal style of the Islamic State group, which is also known as ISIS or ISIL. Earlier this month Boko Haram released a video purporting to show the beheading of two men accused of spying, similar to ISIS execution videos.
An increase in publicized attacks was seen from both jihadist groups previously accepted into ISIS.
The first group was Ansar Bait al-Maqdis (ABM), based in the Sinai Peninsula, which had been actively conducting attacks against the Egyptian military since Mohammed Morsi was ousted from the presidency in 2013. In November, it carried out a deadly attack on Egyptian security forces but did not officially claim responsibility until after ISIS accepted its allegiance.
The second group to be accepted was the Shura Youth Council of Derna, in Libya.
"In the months since they've [ABM] pledged allegiance to [ISIS caliph Abu Bakr] al-Baghdadi, they've been conducting explosive attacks and also starting very nascent governing and social-outreach efforts," said Harleen Gambhir, a counterterrorism analyst at the Institute for the Study of War. "Those are the sorts of things that tell us ... there's likely some funding going from ISIS core in Iraq and Syria to those wilayats [provinces of the "caliphate"] and that there may also be some military and governance training."
Boko Haram may not be getting the same direct transfer of capabilities, in part because it is quite capable of carrying out large-scale attacks on its own, but it will still reap some military benefits from an ISIS alliance.
"We're going to see an uptick but you can't disaggregate that this is because of ISIS," Pham said. "There's no real possibility of command and control" from the central core of ISIS to Nigeria.
Where Boko Haram will benefit militarily is in an increase in trained foreign fighters able to carry out attacks. ISIS spokesman Sheikh Mohammed al-Adnani announced the alliance with Boko Haram in an audio recording Thursday, calling on fighters to make their way to Nigeria. Many of these fighters are likely to come from countries immediately surrounding Nigeria and from countries in North Africa.
Some will be joining Boko Haram straight from ISIS training camps on the border of Libya and Tunisia, because tougher security measures have made it more difficult for some to travel to Syria.
"For the fighters in the three provinces in Libya, and the training camps we know are there, it's a hop and skip to get to Boko Haram," Pham said.
In return, ISIS gains a foothold in Africa at a time where it is under attack in both in Iraq and Syria. The group's "main priority is building out its caliphate," Aaron Zelin recently wrote in the Washington Post. "It has had a relatively clear agenda and model: fighting locally, instituting limited governance and conducting outreach."
© Copyright IBTimes 2022. All rights reserved.
FOLLOW MORE IBT NEWS ON THE BELOW CHANNELS