ISIS Fighters Are Faking Defections To Infiltrate Their Home Countries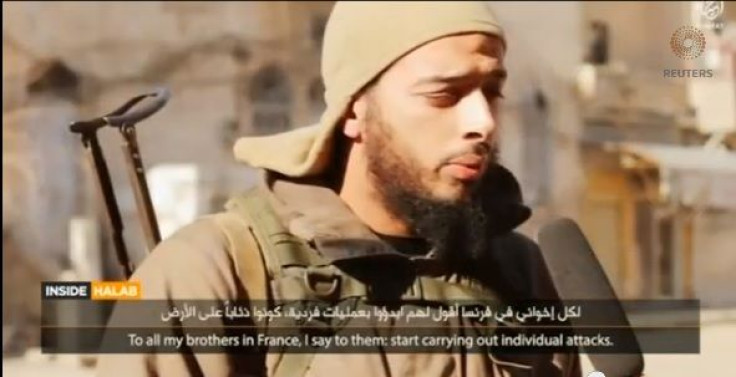 Islamic State group leaders have caught and executed hundreds of fighters since December for attempting to flee the so-called caliphate. More foreign and local fighters have publicly expressed dissent for the group and defected this year than ever before -- but the militant group has found a way to use this to its advantage and infiltrate terrorists in Western cities.
Though reasons for dissent vary, some of the recent cases of reported defection actually involve fighters, usually Westerners, who are only pretending to have shed their allegiance to ISIS so they can bring the fight to their home nations more easily. With the help of ISIS propaganda disseminators and the group's savvy media operation, some foreign fighters have faked their defections, or even deaths, so that they may return home without being detected by their government.
"There are two types of soldiers who are fleeing. Some of them escape from fear. The other one is a dangerous division of Daesh. They send them out and say that they are dissidents," Abu Mohammad, one of the founders of anti-ISIS activist group Raqqa Is Being Slaughtered Silently, told International Business Times via Skype, using an Arabic acronym for the group.
On Tuesday, the Associated Press reported the number of foreigners who have joined ISIS is now 20,000, with fighters coming from 80 different nations. Foreign fighters received nearly double the salary of a Syrian fighter and were known to be much more brutal to civilians, the Washington Post reported.
"ISIS loves the foreign fighters," Abu Ibrahim al-Raqqawi, another member of the activist group, told IBTimes via Skype. "They always say 'Welcome, welcome!'"
Raqqa, the terrorist group's de facto capital, used to be a main hub and meeting point for ISIS' new foreign recruits and some of its most brutal Western militants. Last month, ISIS formed the "Anwar al-Awlaki Battalion," a unit composed solely of English-speaking foreign fighters who have reportedly received orders to carry out an attack in a Western country.
This week, Raqqa-based activists reported that many foreign fighters had disappeared from the city. Some defectors were previously members of al Qaeda's affiliate in Syria, Jabhat al-Nusra, and either returned to Nusra-controlled territory or fled to Turkey. However, others left because ISIS leaders ordered the fighters to return home.
"The group [ISIS] is publishing the rumors of its members' defections, to facilitate their entry process into Western countries, allowing them to join the militants in those cities, and implement terrorist operations," according to the activists, who have contacts within the terrorist group. They added that ISIS plans to carry out several simultaneous operations in different European cities.
Last month, Belgian police foiled what the federal prosecutor called a "terrorist attack on a grand scale" from two Belgian terrorist suspects who had recently returned from training with ISIS in Syria. Police engaged in a ten-minute shootout with the men, who were armed with military weaponry as well as handguns. ISIS provided those weapons, according to Dr. Jytte Klausen, a professor of International Cooperation at Brandeis University and founder of the Western Jihadism Project, a research group.
"The risk that we get from the ISIS folks is the influx of weapons," she said. "They come back and have weapons in their cars. They drive back."
Imran Khawaja, a British ISIS fighter, reportedly tried to get back to the UK earlier this year after ISIS helped him fake his own death. His plan was to drive, but British authorities caught him and found weapons in the vehicle. Khawaja was sentenced to 12 years in prison last week.
The journey home can take several different paths for foreigners leaving the caliphate. The most common route out of Syria, especially out of Raqqa, is through Turkey, but from there fighters often disperse. Some go through Tunisia, one of the biggest suppliers of foreign fighters to ISIS and also where the militant group is reportedly doing much of its finance and banking. Others go through Greece, where they can pretend to be tourists and, if they have an European passport, can then freely travel within the European Union. Fighters leaving from the militant group's strongholds in Iraq have been known to go through the Balkans before entering Europe.
When they do finally make it back to their homeland, many coordinate with terror cells that are already active in the country. Some of these cells have been active for decades, and though they used to be solely aligned with al Qaeda, they now work with both ISIS and al Qaeda's affiliates.
"They haven't chosen a side," Klausen said. "If they haven't died, then they're still active today. Very few people get off the track, it's very rare to see people spinning off."
But not every ISIS defector is lying. Many newly-arrived foreign recruits with very limited military training are assigned the role of suicide bombers, and when faced with what ISIS calls "martyrdom," they sometimes defect. Others disagreed with ISIS' decision to burn Jordanian pilot Muath al-Kaseasbeh alive and then release a video of the execution.
"There are a lot of ISIS members, who just go into ISIS to take money and then they escape," al-Raqqawi said. "There are some of them who are just tired, they cannot live under airstrikes, especially from the coalition. Some of them say (ISIS) are not good people. There are a lot of reasons."
FOR FREE to continue reading
✔️ Unlock the full content of International Business Times UK for free
offer available for a limited time only
✔️ Easily manage your Newsletters subscriptions and save your favourite articles
✔️ No payment method required
Already have an account?
Log in
© Copyright IBTimes 2023. All rights reserved.