ISIS Threatens Teachers In Raqqa: College Graduates, Educators In Syrian City Forced To Repent, Teach In Islamic State Schools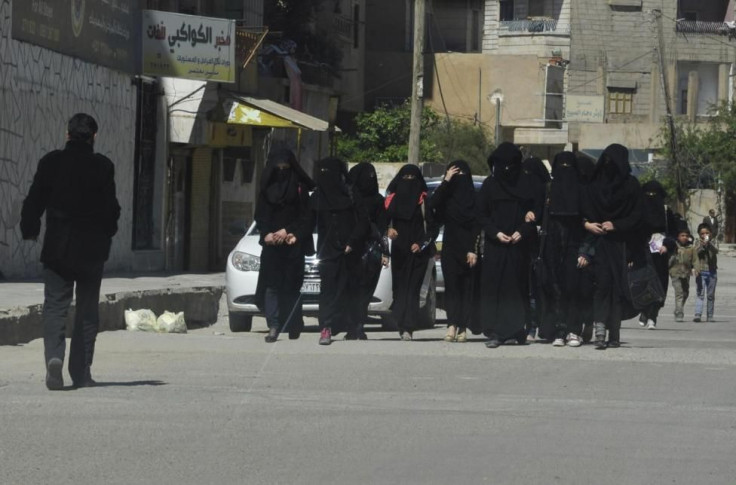 Many teachers and university graduates living in the Syrian city of Raqqa have fled the ISIS stronghold in fear of losing their jobs, salaries, properties or worse -- their lives. The Islamic State group is forcing the city's educators and college graduates to choose between repentance and death, according to anti-ISIS activist group Raqqa is Being Slaughtered Silently. The graduates and teachers also fear the militants will turn them into fighters or force them to teach in ISIS schools, preventing them from receiving pay.
There are thousands of education workers in Raqqa, most of whom still receive their salaries from Syrian President Bashar Assad's regime. But many have vacated the Syrian city out of fear that they will lose their jobs and salaries if they are forced to pledge loyalty to the Islamic State group, also known as ISIS or ISIL.
"All teachers are afraid that ISIS will prevent them from receiving their salaries, considering it a taboo action," wrote Abu Mohammed, a Syrian activist of Raqqa Is Being Slaughtered Silently, a group that has become one of the leading voices from war-torn Syria.
The educators also fear ISIS will force them to teach in its de facto capital of Raqqa at English-speaking schools, which the Sunni militant group recently opened and for which it is seeking teachers. "By the grace of Allah we have opened schools for English speaking children," the terror group announced in a promotional poster obtained by local activists. "If you are interested in teaching at the schools (part time and full time) please contact us."
The Islamic State group has threatened those who do not repent with death for apostasy. Some educators have fled the group's self-declared caliphate and moved into areas under control of the Assad regime. Others have fled Syria altogether and crossed the border into Turkey, fearing they will be pursued by the regime for reserve military service and forced to fight on the battlefield, according to Raqqa is Being Slaughtered Silently.
A lifelong teacher in Raqqa told Syria Deeply that she decided to join the ISIS teaching staff in hopes the militants would release her detained husband and that she could provide for her family, after not receiving salary from the Syrian government in six months.
In schools controlled by ISIS, the teaching staff must first go through a training course. Then the male teachers are sent to schools for boys while the female teachers are sent to schools for girls, where any form of secular curriculum is banned.
"We had to be careful not to corrupt the minds of the children under ISIS rule," the Raqqa teacher, Balqis, told Syria Deeply in November. "I couldn't go on like this but I was so scared that if I didn't go to school I would be arrested. So I decided to run away with my children to Turkey. Luckily I found a job in a Syrian school in Gaziantep, Turkey."
Since last summer, ISIS has seized large swaths of territory in Iraq where they govern under the harshest interpretation of Shariah law. The terror group is fighting the Assad regime, but also has fought other armed factions including the Peshmerga of Kurdish Iraq in its attempts to take control of more ground in the region.
© Copyright IBTimes 2023. All rights reserved.