Islamic State Announces War Against Jews: New ISIS Video Vows In Hebrew To Kill Israelis All Over The World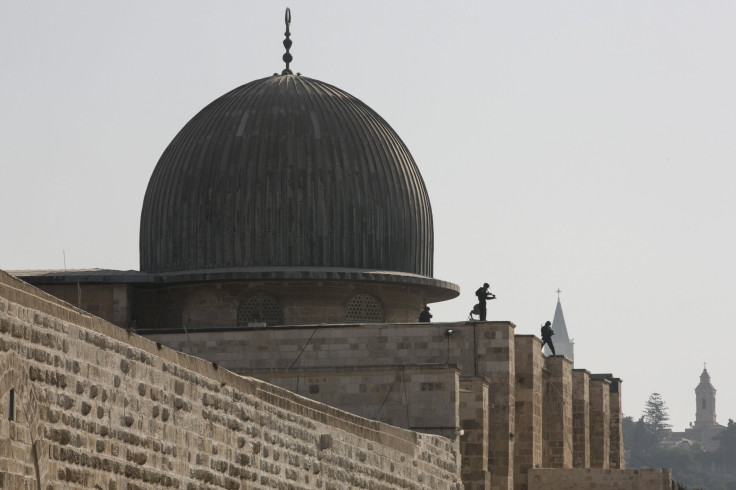 Islamic State group fighters released a video in Hebrew Sunday that vows to launch a war against Jews. The video, the second of its kind in recent weeks, is titled "A Message to Israel," local media reported.
The video, purportedly produced by a terrorist group affiliated with ISIS in Egypt, shows a knife-wielding ISIS fighter standing near two masked and armed men. The narrator announces that the war against the Jews "will soon be launched, God willing." "To all the Jews, grandsons of apes and pigs, we are coming at you from all over the world. … [The war] is soon; it won't be long, God willing, God willing," he says.
The video was released after ISIS fighters in Egypt claimed responsibility for taking down a Russian jet in a crash that killed all 224 passengers on board Saturday. It's unclear what brought down the plane.
ISIS released another video in Hebrew declaring its desire to annihilate Jews last month. "This is an important message to all Jews -- the first enemy of the Muslims," a masked ISIS terrorist says in grammatically incorrect Hebrew. "The real war has not yet begun. Whatever you had previously is child's play [in comparison]. … Do whatever you want in the meantime, until we reach you, and then we will make you pay for the crimes you have committed. … Soon, there will not be even a single Jew left in Jerusalem or the rest of the country. We will keep going until we eradicate this disease worldwide."
The video addresses the recent conflict in Israel between Israeli officials and Palestinians over Jerusalem's Al-Aqsa Mosque compound, a site sacred to both Muslims and Jews. At least 67 Palestinians have been killed by Israeli forces since Oct. 1 amid complaints that Israel is violating a long-running agreement banning non-Muslim prayer there.
"We will enter Al-Aqsa Mosque as conquerors, using our cars as bombs to strike the Jewish ramparts," the ISIS militant says in last month's video. "Then we will charge you tenfold for the crimes" you have committed against the Palestinian people.
The Israel Defense Forces have said they are monitoring the ISIS-affiliated Sinai Province group along Israel's southern border with Egypt.
© Copyright IBTimes 2023. All rights reserved.