Islamophobia On The Rise In The United States, New Survey Reveals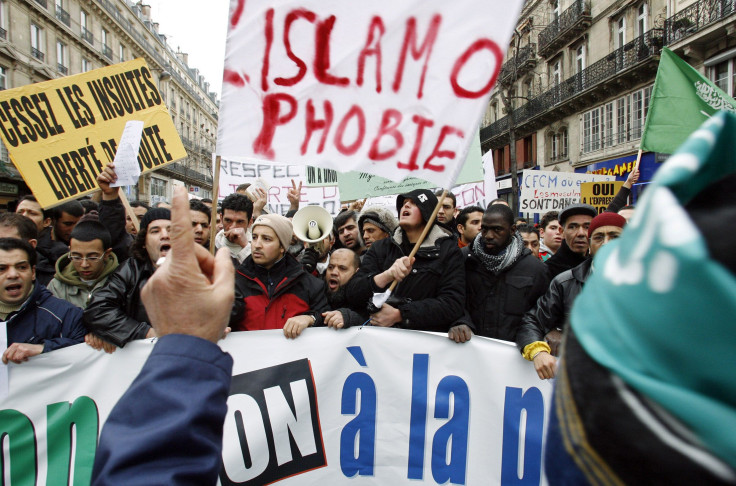 Americans' perceptions of Islam have turned increasingly negative in recent years, a survey released Tuesday from the Public Religion Research Institute revealed. Fifty-six percent of people surveyed agreed that the values of Islam are at odds with America's values and way of life, which is a significant increase from 47 percent in 2011.
The survey found that 73 percent of white evangelical Protestants agreed that the values of Islam are at odds with American values and way of life, as did 63 percent of white mainline Protestants, 61 percent of Catholics, 55 percent of black Protestants, 41 percent of unaffiliated people and 37 of people practicing a non-Christina religion. By breaking down the results of the survey by political affiliation, the report also revealed that over three-quarters of Republicans think that Islam is incompatible with the American way of life, New Republic reported.
A slew of governors recently announced their opposition to accepting Syrian refuges in their states after authorities revealed that one of the suspects allegedly responsible for the grisly attacks that unfolded in Paris Friday was believed to have entered Europe amid the current wave of Syrian refugees. President Barack Obama announced in September a plan to accept 10,000 Syrian refugees in 2016 in response to the massive influx of refugees fleeing war-torn Syria.
"We believe these governors are succumbing to fear and Islamophobia," said Ibrahim Hooper, national communications director of CAIR, Al Jazeera reported. "This is really a non-issue because refugees and immigrants are checked thoroughly by the authorities before entering the US."
A number of Republican officials reportedly said that the U.S. should only accept Christian refugees. Former Florida Gov. Jeb Bush said the U.S. should limit the resettlement of Syrian refugees to "the Christians that are being slaughtered" and Texas Sen. Ted Cruz said there is "no meaningful risk of Christians committing acts of terror." The Council on American Islamic Relations has claimed that over a dozen candidates in the race to the White House have employed anti-Muslim rhetoric during the campaign.
© Copyright IBTimes 2023. All rights reserved.
FOLLOW MORE IBT NEWS ON THE BELOW CHANNELS