In Israel, Biden And Netanyahu Discuss ISIS, Iran And Fresh Wave Of Palestinian Violence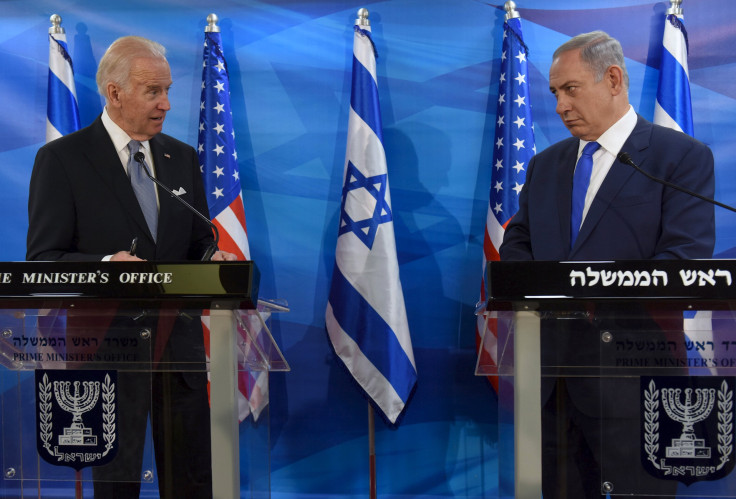 The U.S. stands with unwavering support alongside Israel, Vice President Joe Biden stressed during a speech Wednesday in Jerusalem on the second day of his trip to the Middle Eastern nation. The comments, made following a meeting with Israeli Prime Minister Benjamin Netanyahu, come amid a fresh wave of violence.
Palestinians carried out four attacks Tuesday, which killed at least one American tourist and injured about a dozen others. Three assailants were reportedly killed. Biden said his wife, Jill, and their grandchildren were "not very far" from the site of one of the attacks, Reuters reported.
"There can be no justification for this hateful violence, and the United States stands firmly behind Israel's right to defend itself," Biden said.
The region has seen a sharp spike in violence for months, intensified in recent days, as Palestinians have carried out sporadic lone-wolf attacks against Israelis. At least 28 Israelis and two U.S. citizens have been killed since October. Some 179 Palestinians have been killed, including 121 who Israel maintains were killed while carrying out attacks.
"Let me say in no uncertain terms, the United States of America condemns these acts and condemns the failure to condemn these acts," Biden said, standing alongside Netanyahu. The remarks were understood as a critique of Palestinian leadership. Palestinians have complained about a prolonged occupation that shows little sign of easing.
Biden last visited Israel in 2014. Since then, tensions have increased between the Obama administration and Israel, particularly after Netanyahu took a strongly critical stance of the Iran nuclear deal. The agreement saw sanctions lifted against the Islamic Republic in exchange for restrictions placed on its nuclear program. Biden sought to assure Netanyahu that the U.S. is committed to its security and will act in the event Iran violates the agreement.
"A nuclear-armed Iran is an absolutely unacceptable threat to Israel, to the region and the United States," Biden said. "If in fact they break the deal, we will act."
The two leaders reportedly spoke on a range of topics, including Israeli security and the Islamic State group, aka ISIS, though no details on those discussions were immediately available. Biden was set to meet Palestinian President Mahmoud Abbas in the West Bank before traveling to Jordan.
© Copyright IBTimes 2022. All rights reserved.
FOLLOW MORE IBT NEWS ON THE BELOW CHANNELS