Israel Confirms New Knesset Members, While Netanyahu Seeks Coalition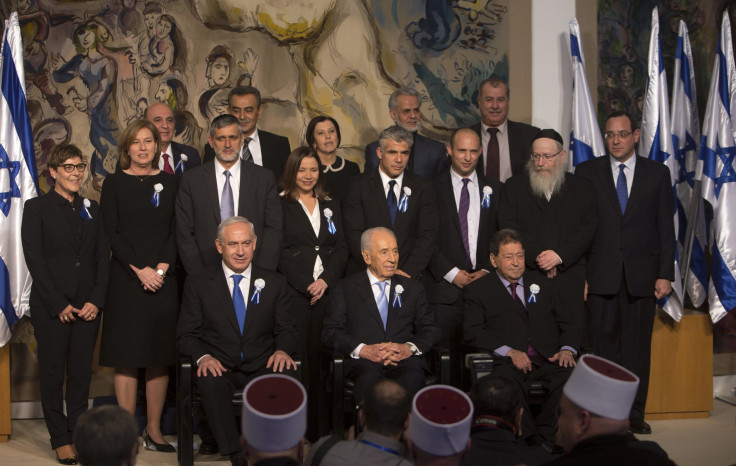 Jews are forbidden from swearing, but on Tuesday a record number of new Members of the 19th Israeli Knesset, or MKs, stood in alphabetical order and said, "I commit to be faithful to the State of Israel and fulfill faithfully my mission in the Knesset."
The Knesset has 120 seats, 48 of which will be occupied by new faces, including two Ethiopian MKs, and Dov Lipman, the first U.S.-born MK since 1984.
Haneen Zoabi, a Palestinian Arab from the left-wing Balad party, stood up, took the oath, and promptly walked out of the chamber. In fact, according to Jerusalem Post reporter Lahav Harkov, most of the Arab MKs exited the chamber before the end of the commitment ceremony, when the Israeli national anthem Hatikva was played.
Israeli Prime Minister Benjamin Netanyahu gave a speech that, for once, did not directly mention Iran or the Palestinian question. Instead, he talked about the need for respect between MKs, and to reduce the costs of living and housing -- two issues that strongly influence the polls in the recent election.
The confirmation of the Knesset members does not mean the government has officially formed or that work can begin. Being a parliamentary system, the government still needs to form a coalition, which, according to insiders, is not close to being decided upon.
"We still have no idea who's going to be in the coalition," said Jonny Daniels, a consultant for the majority Likud party. "There are still several options on the table."
Some scuffles have already occurred, notably between current leader Netanyahu and the new "golden boy," Yair Lapid, head of the centrist Yesh Atid party. On Monday Lapid boasted that he could "replace Netanyahu in 18 months," and his party's policies have already earned the ire of the religious Shas party. Now the prime minister is reported to be "mulling" a Lapid-less coalition -- instead he is courting left-wing party leader Tzipi Livni.
The deadline for the government to form a coalition is mid-March. Meanwhile, U.S. President Barack Obama is confirmed to be visiting Israel in March, potentially on March 20.
© Copyright IBTimes 2023. All rights reserved.