Israel Evicts West Bank Settlers As Government Ministers Bicker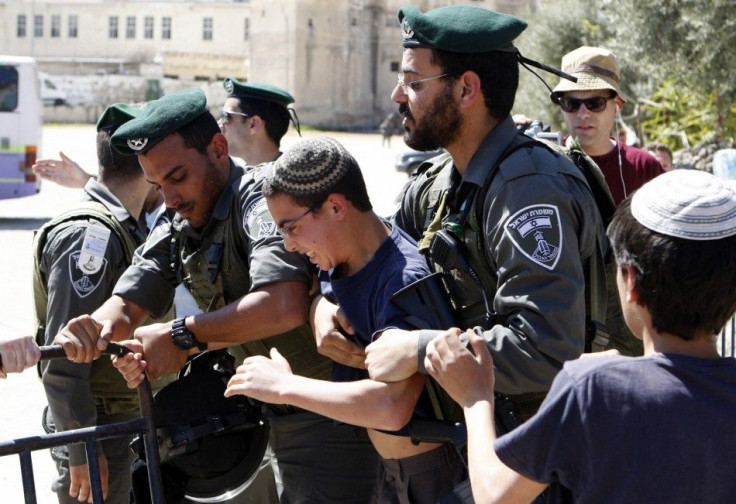 Israeli military forces evicted a group of settlers from a house in the Palestinian-controlled West Bank city of Hebron on Wednesday, ending a weeklong standoff.
The Israeli settlers, after spending six nights in the neighborhood, hadn't gotten permission to buy the two-story house as they had claimed and therefore had to leave, Defense Minister Ehud Barak said. The military concluded that their takeover was a provocation toward Palestinians in Hebron.
Barak ordered a second house in the city to be evacuated by April 25, the Jerusalem Post reported.
About 850 settlers live under Israeli military protection in the heart of Hebron, the burial site of Abraham, among some 200,000 Palestinians, and sectarian violence in the city is fairly common.
The latest eviction has ignited a fierce debate within Prime Minister Benjamin Netanyahu's cabinet. Israeli settlements in Hebron, Judea, Samaria and Gaza are considered illegal under international law, but a number of government ministers are furious over Barak's decision to remove the Jewish families.
The handing of the issue from start to finish was bad. One cannot use the right of property claim to evict en entire community established 13 years ago and at the same time not honor the right of property when it comes to the purchase of a Hebron house by Jews, foreign minister Avigdor Lieberman was quoted as saying by Israeli news site YNet.com.
The fate of the Hebron house evacauted Wednesday also sparked a feud between Barak and Deputy Prime Minister Moshe Yaalon, who said the defense minister should be stripped of all authority over the West Bank.
"Barak is not solving any problems or signing any urban building plans, Yaalon told Israel's Haaretz newspaper. Ehud Barak is acting against the government and against the settlements in Judea and Samaria, all that he is doing is fanning the flames.
© Copyright IBTimes 2023. All rights reserved.
FOLLOW MORE IBT NEWS ON THE BELOW CHANNELS