Israel Shared ISIS Communications On Russian Plane Crash In Sinai: CNN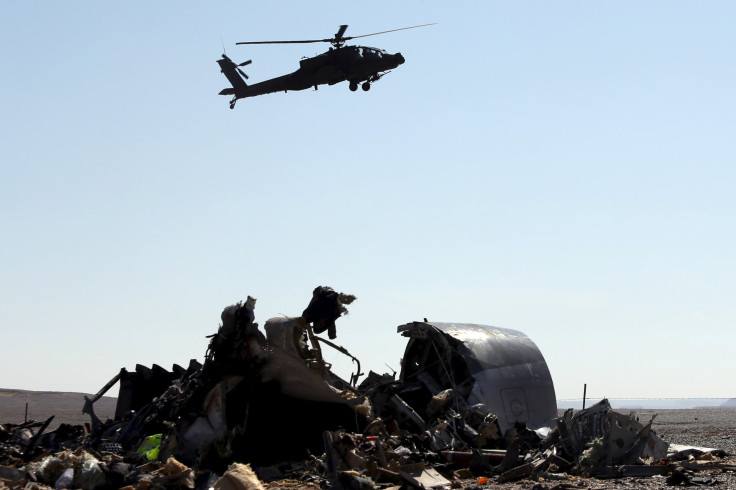 Israeli intelligence captured and shared communications among ISIS fighters regarding the Russian plane that crashed in Egypt last week, CNN reported Sunday, citing two U.S. government sources. The report comes as American officials grow increasingly certain that a bomb was responsible for the explosion that killed 224 passengers leaving flying from Sharm el-Sheikh, Egypt, to St. Petersburg, Russia, on Halloween.
According to CNN's sources, the Israelis shared the intelligence with U.S. and British officials after the disintegration of Metrojet Flight 9268 over Egypt. While American and British leaders have expressed growing confidence that a bomb planted in the hold of the aircraft caused the crash, Egypt and Russia have refused to rule out other causes. If a bomb is confirmed, it could devastate Egypt's tourism sector.
The head of the Egyptian investigation told reporters Saturday "all the scenarios" remain on the table. The office of Russian Foreign Minister Sergey Lavrov released a joint statement with Egypt last week saying it would be "counterproductive to try to draw conclusions about the causes of the tragedy."
The self-described Islamic State claimed responsibility soon after the crash, though Russian officials were quick to question the claims. U.S. officials have distinguished between the public claims of the ISIS Sinai affiliate and communications picked up by intelligence sources.
The Egyptians this weekend expressed frustration that other countries hadn't shared intelligence with their investigators. The request could create conflict with Israel, which reportedly has been selective in sharing its intelligence. Israel has not publicly commented on the purported intelligence.
Russian Foreign Ministry spokeswoman Maria Zakharova called it "genuinely shocking" that Western officials have not passed intelligence along to the Kremlin. Days after the St. Petersburg-bound plane disintegrated in-flight, Britain and Russia canceled all flights into Sharm el-Sheikh International Airport in Egypt and scrambled to evacuate the tens of thousands of visitors now stuck in the popular Egyptian vacation spot.
The reports of Israeli intelligence follow the publication of mounting evidence that Flight 9268 was taken down by a bomb. A French CNN affiliate reported Friday that an analysis of cockpit recordings indicated that a "violent, sudden" explosion was the likely cause, rather than a mechanical malfunction.
U.S. Homeland Security Secretary Jeh Johnson told CNN Saturday the U.S. was now taking extra precautions with flights into and out of Egypt.
© Copyright IBTimes 2023. All rights reserved.