Israel Suspends Ban On Palestinians Sharing Buses With Israelis In The West Bank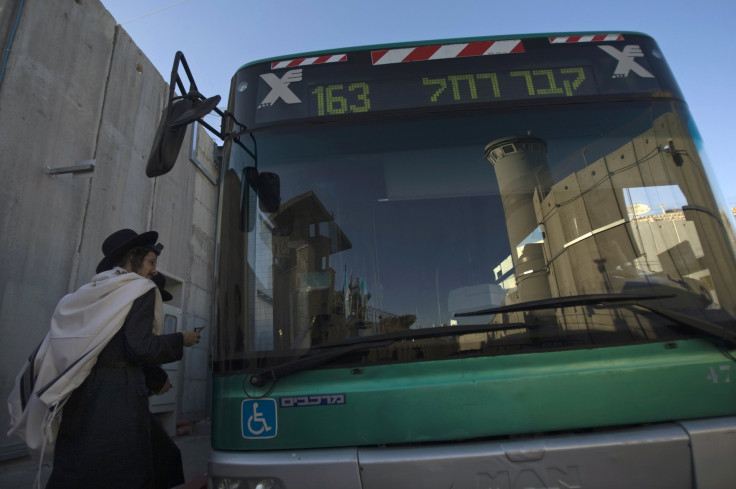 Update as of 5:00 a.m. EDT: Following severe backlash over his government's decision to ban Palestinians from buses used by Israelis in the West Bank, Israeli Prime Minister Benjamin Netanyahu scrapped the plan on Wednesday.
The decision was taken after Netanyahu called Defense Minister Moshe Ya'alon and told him that the proposal was "unacceptable," the Associated Press reported.
Original story:
Palestinians returning to the West Bank from Israel will not be allowed to do so in the same buses as Israelis under a new directive issued by Israeli Defense Minister Moshe Ya'alon on Tuesday. The move comes in response to increased pressure by Israeli settlers who have, in the past, cited concerns for their security.
"Under a three-month pilot project, Palestinians who work in Israel will, starting Wednesday, need to return home by the same crossing without taking buses used by (Israeli) residents," a defense ministry official told Agence France-Presse (AFP).
Hundreds of Palestinian workers commute to Israel from the West Bank every day using travel permits each time they cross one of 40 fixed checkpoints. Until now, Palestinians who entered Israel could return to the West Bank any way they chose. However, under the new plan, not only would they have to return through the same checkpoint they used to cross into Israel, possibly extending the duration of their commute by hours, they would also have to change buses after crossing back into the West Bank to avoid travelling on Israeli bus lines.
The move would allow "better control of the Palestinians and those leaving Israel and reduce security risks," Ya'alon reportedly said. The policy, which will be reviewed after three months, has already come under criticism for being racist, with several groups calling it tantamount to apartheid.
"If the Defense Ministry has in fact begun to implement a separation plan on buses to the West Bank, beyond the fact that the plan was implemented clandestinely out of fears that we might take steps to prevent it, this is a shameful and racist measure that causes Israel to deteriorate to a low moral point," Michael Sfard, counsel to Yesh Din -- an Israeli human rights group -- told Haaretz. "We will fight this step with all legal means available."
Political parties in Israel also slammed the move by the government and said that it could "cause unnecessary harm" to Israel's image.
"This is what apartheid looks like," Zehava Gal-On, member of Meretz -- a left-wing, secular Israeli political party -- reportedly said. "There is no better or nicer way to put it. Separate buses for Jews and Palestinians prove that democracy and occupation cannot coexist."
© Copyright IBTimes 2023. All rights reserved.