Israeli Newspaper Cartoon Depicts Netanyahu Flying A Plane Toward World Trade Center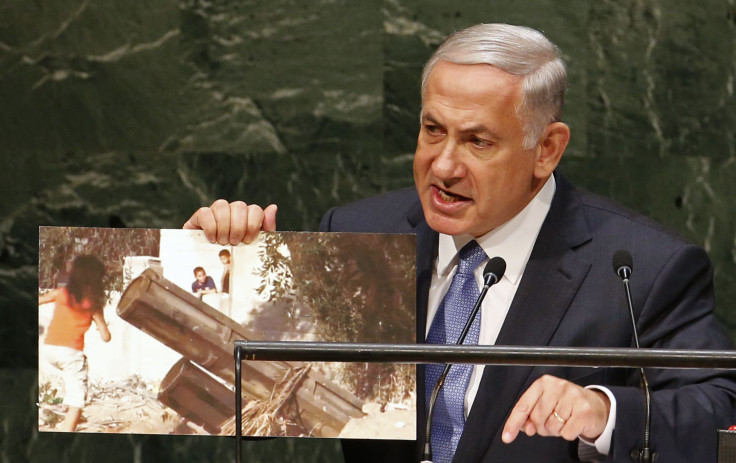 The left-leaning Israeli newspaper Haaretz published a political cartoon Thursday that shows Prime Minister Benjamin Netanyahu flying a plane into a building that is meant to represent the World Trade Center.
The cartoon was published on a page on the newspaper's website. Below the cartoon, the outlet wrote "U.S.-Israel tensions: The crisis with Washington is here to stay" and linked to a story about the state of affairs between the two countries.
The political cartoon was published one day after a senior Obama administration officials called Netanyahu a "chickensh-t," in an interview with the Atlantic, referring to the prime minister's ability to broker peace with Palestinians. That same senior official called Netanyahu a "coward" when it came to Iran.
The relationship between the U.S. and Israel is sliding into what many are calling a full-blown crisis. Jeffrey Goldberg, the author who originally published the "chickensh-t" quote in the Atlantic,wrote in his article that the comment from the official is "representative of the gloves-off manner in which American and Israeli officials now talk about each other behind closed doors. The relationship between these two administrations ... is now the worst it's ever been," Goldberg wrote.
Israel announced this week its intention to create more settlements in East Jerusalem, angering some U.S. senior politicians.
"The United States is deeply concerned by reports the Israeli government has moved forward" with planning for settlements in a "sensitive area" of east Jerusalem, White House Press Secretary Josh Earnest said earlier this month. The U.N. political chief Jeffrey Feltman said that the settlements would raise doubts about Israel's plans to create peace with the Palestinians.
© Copyright IBTimes 2023. All rights reserved.