Jack Finds Its Management Jumping Out Of The Box
In December, Jack in the Box (NASDAQ:JACK) announced that CEO Lenny Comma would be stepping down. His departure date is yet to be determined, and he'll assist the board in finding his successor.
Comma's departure announcement comes shortly after other management changes at Jack. In September, Jack announced the departures of Chief Legal Officer Phillip Rudolph, Chief of Staff & Strategy Mark Blankenship, and Controller & Treasurer Paul Melancon. Rudolph and Blankenship will leave in February, Melancon left in early January.
Let's look closer at the situation at Jack and why Comma and the other executives are leaving.
Cleaning out the box
Jack has been facing a multitude of challenges lately. Last year the company was exploring some strategic options, including selling itself. Instead, it ultimately decided to sell Qdoba, its Mexican restaurant brand, for $305 million to Apollo Global Management. Qdoba was initially seen as a growth opportunity, but Jack's selling it indicates that Qdoba was a target to offload. While Jack was able to grow Qdoba from 85 stores in 2003 to over 700 stores upon its sale, the Mexican branded store was dragging on its finances.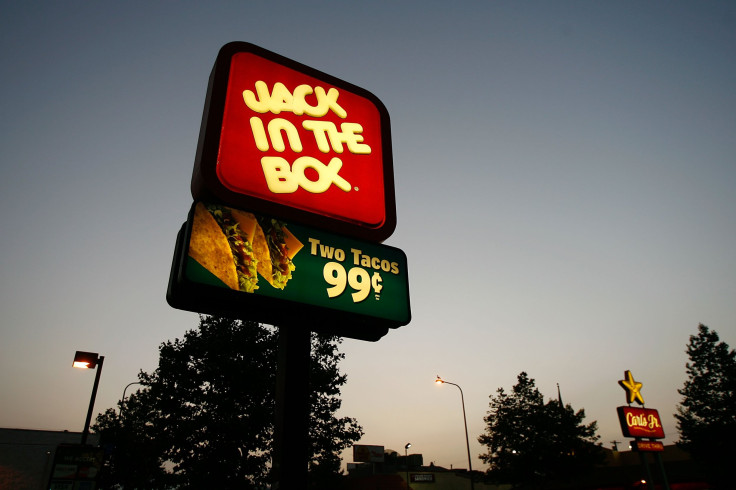 It's worth noting that Qdoba were company-owned stores, while 94% of Jack in the Box-branded stores are franchised. Company-owned stores take more capital to start up and operate for the parent business. They can also further drag down financial results during rough times. Even though Jack's comparable sales grew over nine consecutive years, the Qdoba stores were hampering its overall financials.
But Qdoba isn't the only thing Jack's selling. Shortly after announcing Comma's departure, Jack sold its headquarters to the San Diego Unified School District. There was no comment from Jack, but its next headquarters will be half the size of the one it sold. It is likely that this transaction indicates Jack's downsizing of its headquarter operations. Jack will continue to lease the facility from the school district for the next 18 months as it transitions to the smaller facility.
Jack's troubled relationships with franchisees
Since Jack is so franchise-heavy Jack with its stores, keeping good relations with its franchisees is paramount. Under Comma, many franchisees were growing dissatisfied with his leadership.
Franchisees were facing increasing pressures on their margins and cash flows. Minimum wages were up, most notably in California where 80% of Jack's stores are located. Commodities went up 4% over the past quarter. Comma also pushed for improved drive-thru performance, which included technology upgrades -- and capital commitments from franchisees.
Jack's leadership offered some support, but it is likely that their proposed solutions did not adequately address the franchisee's concerns. CFO Lance Tucker offered an incentive plan to support franchisees in their unit growth. Comma targeted operational changes and simpler operations to assist franchisees toward better performance and execution --but he simultaneously pushed for limited time offers on the menu. The addition of limited-time offers on the menu add a level of complication to both store performance and execution.
But Comma's relations with Jack franchisees is one likely reason for his departure.
Boxing out the analysts
Jack's management was challenged by analysts during its November earnings call, offering less-than-inspiring answers. During the call, Comma and Tucker gave guidance of 1.5 to 3% growth in same store sales for the year, but were reluctant to give any commentary on how they came to that guidance despite repeated questioning by analysts.
Tucker's answer to a question about guidance was typical throughout the November earnings call. "So, really we're going to be focused on our long-term guidance and our annual guidance only. So, we're going to say, it's 1.5% to 3%. We're not going to go into a lot of details as to what that looks like," he said.
During the same call, a Wells Fargo analyst noted that other data sources reported a weaker third and fourth quarter performances. Tucker noted that a possibility is that Jack has more cash transactions than its competitors, but did not address the analyst's query any further.
A Bank of America analyst noted that Jack in the Box's average check growth was consistently lower than its competitors and suggested it was an opportunity for Jack to be aggressive in menu pricing. Comma dismissed the strategy, commenting that the marketplace was competitively price-sensitive and pricing up would not be ideal for Jack's brand health.
By dismissing the concerns of analysts, especially when it comes to something as central as explaining forward-looking guidance, Jack's leadership brought to light its own management issues.
Waiting on Jack
As an investor, I would recommend a wait-and-see approach with Jack. The company was exploring selling itself not too long ago, sold its Mexican branded store, has issues with its franchisees and analysts, and announced the departure of four top executives -- including its CEO.
There are too many issues in the air. The next set of executives will need to address the situations and will need execute a strategy going forward. In light of all this uncertainty, I would wait on the sidelines to see how this shape up.
Johnny Chen has no position in any of the stocks mentioned. The Motley Fool has no position in any of the stocks mentioned. The Motley Fool has a disclosure policy.
This article originally appeared in The Motley Fool.