Japan Encourages Young People To Date And Mate To Reverse Birth Rate Plunge, But It May Be Too Late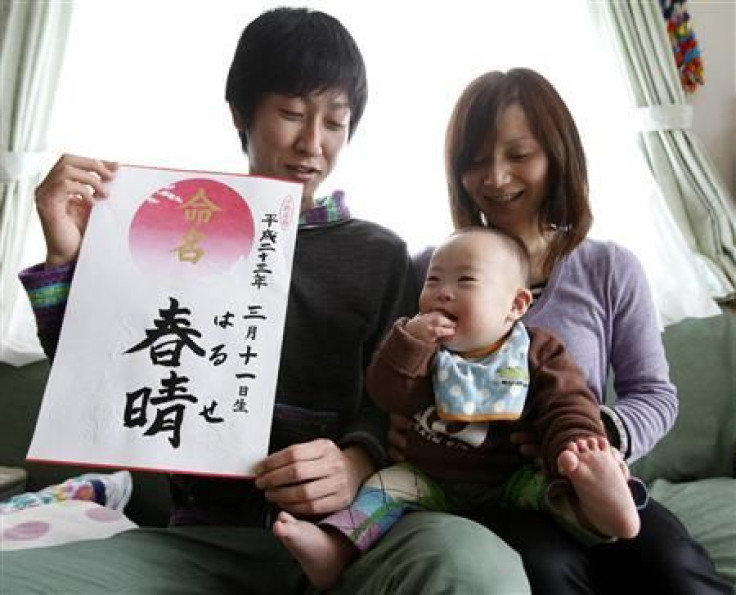 The Japanese government is taking desperate measures to reverse the nation's plunging birth rate -- funding matchmaking and dating services to get more young people married and producing babies. Local officials arrange "konkatsu" parties where singles can meet and mingle, after having bought tickets that allow them to drink and eat at bars and restaurants.
Prime Minister Shinzo Abe's government has allocated 3 billion yen (about $29.3 million) to the program to help lift birth rates in the current fiscal year. Japan's birth rate has fallen to half of what it was only six decades ago, Bloomberg reports, leading analysts to worry that a dwindling population will not only reduce the labor force, but place greater financial burdens on youths to take care of the costly health care needs of their rapidly aging parents and grandparents.
Yuriko Koike, a member of Abe's conservative, nationalist Liberal Democratic Party, warned that, as of 2012, the average fertility rate for Japanese women amounted to only 1.41 children, well below the replacement rate of 2.1 needed to sustain a stable population. Japan's birth rate has not been above 2 level since 1974. At present trends, by 2050 there will be only 1.3 workers to support each senior, from 2.6 workers currently. By 2026, social security costs are expected to climb to 24.4 percent of GDP, up from 22.8 percent in fiscal 2012, the country's welfare ministry projected.
"Now is the last chance to take action on this problem," said Masanao Ozaki, the governor of Kochi prefecture about 500 miles west of Tokyo. "I'm deeply concerned as to whether young workers in the future will be able to take on such a huge burden." Masahiro Yamada, a sociology professor at Chuo University in Tokyo, provided an even darker outlook on Japan's demographic future. "The falling birthrate will probably have a very severe impact on the Japanese economy," Yamada told Bloomberg. "Japan's social security system will probably collapse."
Since the money earmarked for the birth rate program will last only one year, local officials want a longer-term commitment by the government to get a handle on demographic trends that have been building for decades. The challenge for Japan may be insurmountable. As in the Western countries, Japanese people are marrying later in their lives (if at all) and younger women are putting off marriage and children in pursuit of their careers. The economic malaise that has gripped Japan over the past 25 years has also played a serious role in dissuading marriage and child-rearing. Interestingly, despite the dramatic changes Japan has endured over the past four decades, some of its moral traditions have not been affected; for example, only 2 percent of Japanese children are born out of wedlock, versus a figure of 41 percent for the United States, according to Japan's Welfare Ministry.
Meanwhile, population trends keep declining. Last year, Japan recorded only 1.03 million births -- and the country may lose one-third of its current population of 127 million by 2060, said the National Institute of Population and Social Security Research. By 2110, Japan is expected to have a population of only 42.9 million, which would be lower than the 50 million the country had in 1912. The population shrunk by a quarter-million people last year alone, government figures revealed.
Consider what Japan's future demographic crisis will do to the metropolis of Tokyo -- a municipal government report warned that the population of the capital city will be cut by half over the next 90 years. By then, almost one-half (46 percent) of the city's residents will be past retirement the age of 65, underlining the trend that Japan's population is rapidly aging and will require increasing health care and financial support. (Currently, the elderly account for about one-fifth of Tokyo's populace). The report -- compiled by city officials and academics for the Tokyo Metropolitan Government -- projects that by 2100, the city's population will plunge to about 7.13 million from the 13.16 million recorded in 2010 (after reaching a peak of some 13.35 million in 2020). This means that Tokyo's population in 2100 will match the numbers from 1940. "The number of people in their most productive years will decline, while local governments will face severe financial strains," the report stated. "So it will be crucial to take measures to turn around the falling birth rate and enhance social security measures for the elderly."
Akihiko Matsutani, professor emeritus at the National Graduate Institute for Policy Studies, told Japan's Kyodo News agency: "The working population, concentrated in Tokyo, will be rapidly graying. If the economies of developing countries continue growing, the international competitiveness of major companies in Tokyo will dive."
"We have never before seen a country of the size and importance of Japan face these kinds of demographic issues before, said Stephen Bronars, Ph.D., a Washington, D.C., senior economist with labor and employment consultancy Welch Consulting. "It's not just that the overall population of Japan will decline; the crucial issue is that the size of the labor force relative to the overall population will decline," Bronars said.
Aside from encouraging young singles to meet and date, another method the Tokyo government will try to boost population is by increasing immigration. Chosun Ilbo, a South Korean newspaper, reported last month that Japan may allow 200,000 immigrants annually to settle in the country. Under this policy, Japanese authorities predict their population would reach 114 million by 2110. Japan has had restricted immigration laws for decades, but now has a need or skilled foreign workers, including nurses and construction workers, as well as to replenish the population itself.
But Peter H. Liotta, Ph.D., the author of "The Real Population Bomb: Megacities, Global Security & the Map of the Future," warned in 2012 that higher immigration may not be the answer either. "The easiest solution would appear be [for Japan] to allow immigration immediately," he said. "But this solution will never work. Japan, let us be honest, is a civilization unto itself. It cannot integrate wide cultural diversity, unlike the United States or India."
© Copyright IBTimes 2022. All rights reserved.
FOLLOW MORE IBT NEWS ON THE BELOW CHANNELS