Japan To Enter Indian Defense Market; Growing Indo-Japan Cooperation Worries Regional Giant China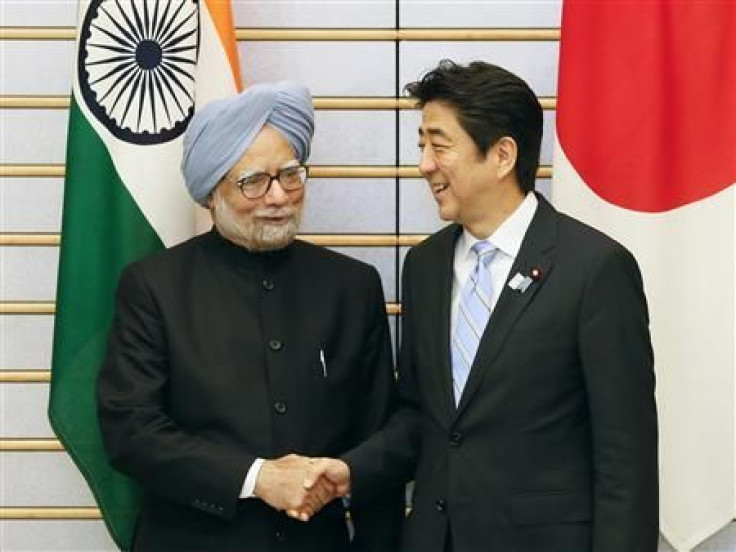 Japanese Prime Minister Shinzo Abe and his Indian counterpart, Prime Minister Manmohan Singh, on Wednesday, agreed to a joint working group to fast-track a deal to supply its amphibious planes to India, in a move that marks Japan's entry into India's multi-billion dollar defense market.
According to an AFP report, Tokyo and New Delhi are close to signing a deal for India to purchase US-2 aircraft used by Japan's military, marking a symbolic end to the self-imposed ban by Japan on the export of weapons and other defense equipment, at a time when Asian countries are growing increasingly worried about China's economic and military heft.
According to a report in a Japanese newspaper quoted by AFP, if the 15-aircraft deal succeeds, the amphibious aircraft would be the first complete defense product to be exported from Japan in more than four decades.
"If the US-2 is exported to India for civilian use, that would be the first case of exports of Japanese-developed weaponry used by the defense ministry for civilian use," said a trade ministry official in charge of arms sales, according to a Nikkei report. So far, Japan has been only exporting technology or military hardware parts.
Although US-2 is a defense aircraft, it can also qualify for the civilian category -- due to its search and rescue feature -- if its friend or foe identification ability is turned off, in compliance with Japan's export laws.
The US-2, also known as a flying boat, was developed by ShinMaywa Industries and was later sold to the Japanese military. US-2 has short take-off and landing capabilities enabling it to land in three-meter swells.
The deal is considered significant as it marks the formal entry of Japanese firms to India's lucrative, big-budget defense market, which has been dominated by western countries.
Japan, which has suffered a decades-long slowdown is concerned over losing economic opportunities and, in recent years, has sought to expand its client base, which until now has been mainly restricted to the country's government and the U.S. Boosting Japan's defense exports is also a key strategy for Shinzo Abe's government to promote economic growth.
In December 2011, the Japanese administration had relaxed its self-imposed, decades-old ban on arm exports allowing its defense firms to participate in the joint development and production of arms with other countries and to supply military equipment for humanitarian missions abroad.
During a four-day visit to Tokyo by Prime Minister Manmohan Singh, both countries agreed to strengthen bi-lateral ties including in the area of civil nuclear cooperation.
"We attach particular importance to intensifying political dialog, strategic consultations and progressively strengthening defense relations including through naval exercises and collaboration on defense technology," Singh said at the release of the statement, Bloomberg reported.
The defense and civil agreements are seen as a symbol of strengthening cooperation between both countries, and a veiled warning to China, which is nervous over the growing Indo-Japanese friendship.
Both India and Japan have troubled relations with China over their international borders and are seen to have strategically teamed up to counter growing Chinese assertiveness in the region.
The People's Daily, an influential Chinese newspaper commented during Singh's Japan visit, that "India's wisdom lies in dealing with ties with China in a calm way, undisturbed by internal and international provocateurs." The newspaper lashed out at Japanese leaders calling them "petty burglars" on China-related issues and accused them of creating a rift in Indo-China relations.
"In the development of Sino-Indian ties, there are several divergence and contradictions. Some countries see these differences as an opportunity to provoke dissension," it said.
© Copyright IBTimes 2023. All rights reserved.