Japan Exports Stagnate, Raising Speculation Of Recession, Stimulus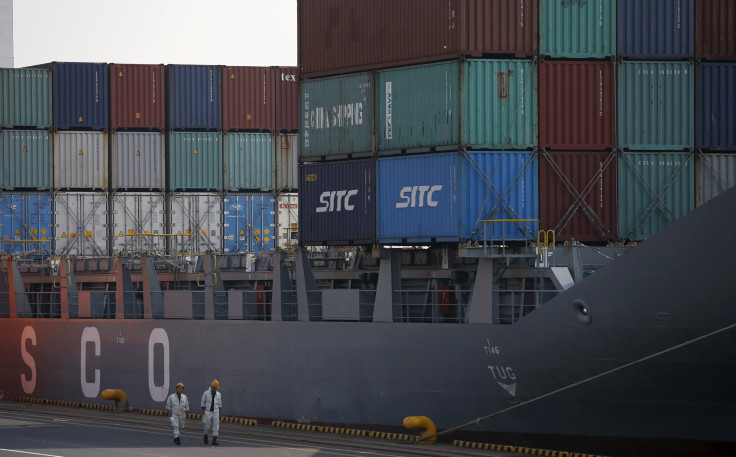 Japan exports stagnated in September as China's economy slowed, raising speculation of recession and a central bank move to boost growth when it meets next month. Japanese and other Asian stocks rose as investors bet on stimulus.
Japanese exports rose just 0.6 percent to 6.4 trillion yen ($53 billion) from the year before, according to the Ministry of Finance. That's the smallest increase since August 2014 and a fraction of the 3.4 percent gain economists had estimated, according to Reuters. Exports to China, Japan's second-biggest market after the United States, fell 3.5 percent to 1.1 trillion yen ($9 billion), the ministry said.
"Whenever we get negative economic news, hopes for additional monetary easing moves the market," Takashi Aoki, a Tokyo-based fund manager at Mizuho Asset Management Co., told Bloomberg. "We're starting to see hard evidence for our fears about the global economy being weak."
Weak September exports may have resulted in a third-quarter economic contraction of an annualized 0.5 percent in July-September, Reuters cited Koya Miyamae, a senior economist at SMBC Nikko Securities, as saying. That would mean Japan is in recession, after the economy shrank 0.3 percent in the second quarter.
Additional stimulus in the Bank of Japan's Oct. 30 meeting isn't a sure bet: Governor Haruhiko Kuroda says the economy is healthy. The bank has kept policy steady since October last year, when it expanded its stimulus program. The third-quarter GDP report will only be released on Nov. 16.
© Copyright IBTimes 2023. All rights reserved.