Japan's Constitution Allows Nuclear Weapons, Says Shinzo Abe's Government After Donald Trump Comments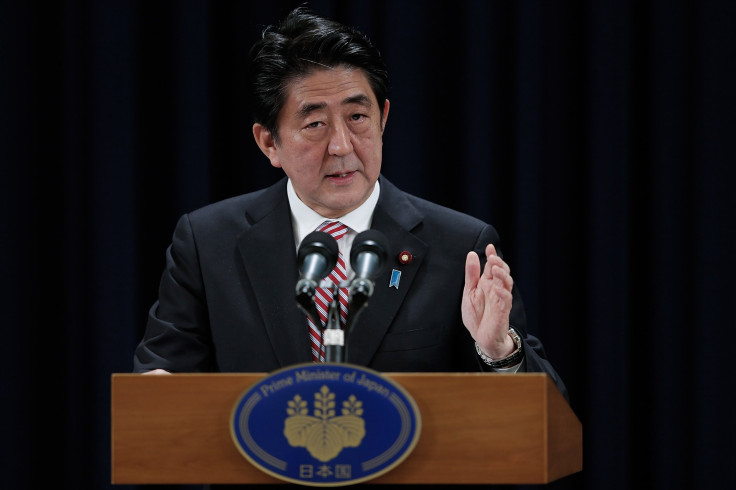 Japan's constitution does not ban the country from having nuclear weapons, contrary to popular belief, officials under Prime Minister Shinzo Abe insisted recently.
The Japanese Cabinet wrote in a response to lawmakers' inquiries Friday that the nation could own and use nukes, the Asahi Shimbun of Tokyo reported. But it then noted that the government "firmly maintains a policy principle that it does not possess nuclear weapons of any type under the three non-nuclear principles."
The statement concerned Article 9 of Japan's constitution, which condemns war and establishes the country as a pacifist nation. The 1947 regulation prohibits Japan, the only country to suffer atomic attack, from having a traditional military and also renounces offensive weapons, according to the Council on Foreign Relations.
The provision has been reinterpreted over the past few decades, most recently by Abe, who in 2012 started his second period as prime minister. In July 2014, Abe allowed Japan's Self-Defense Forces to become more assertive and militarily assist foreign countries, in part to strengthen the relationship between Japan and the United States, the New York Times reported.
Nuclear Detonations by Country Responsible | Graphiq
Last week, Abe's government referenced a 1978 address by then-Prime Minister Takeo Fukuda suggesting that nuclear weapons were constitutionally acceptable, the Asahi Shimbun reported. "Even if it involves nuclear weapons, the constitution does not necessarily ban the possession of them as long as they are restricted to such a minimum necessary level," it read.
Jun Okumura, a scholar at Tokyo's Meiji Institute for Global Affairs, told the South China Morning Post of Hong Kong the recent announcement was likely "something of a surprise to the Japanese public." But residents might not need to worry: Yasuhisa Kawamura, a representative of the Foreign Ministry, declared at the Nuclear Security Summit in Washington Friday that "it is unthinkable that Japan use or possess nuclear weapons," USA Today reported.
Japan's defense policy also made international news recently when American presidential candidate Donald Trump suggested Japan and South Korea start to protect themselves "against this maniac in North Korea" (dictator Kim Jong Un) instead of relying on U.S. troops, according to CNN.
© Copyright IBTimes 2023. All rights reserved.
FOLLOW MORE IBT NEWS ON THE BELOW CHANNELS