Jay Leno Grills Santorum on 'Buried' Romney Endorsement, Gay Marriage, Healthcare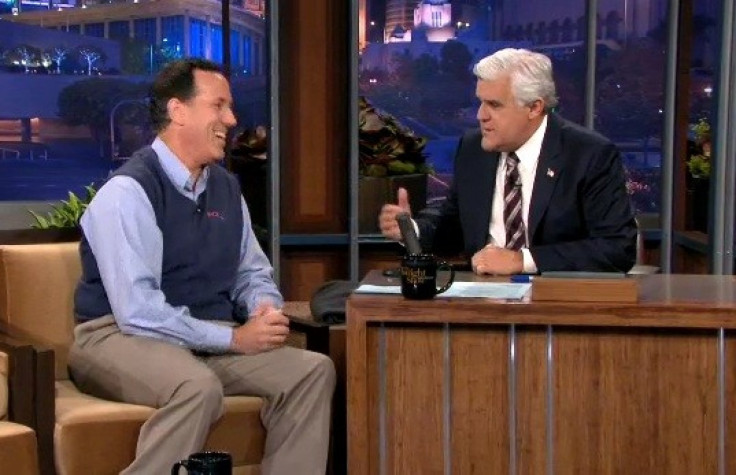 Rick Santorum defended his seemingly tepid endorsement of Mitt Romney on the Tonight Show with Jay Leno on Tuesday, and said he wasn't trying to bury it at all by sending an e-mail late at night.
As presumed Republican presidential nominee Mitt Romney won the primaries Tuesday night in West Virginia, North Carolina and Indiana, Rick Santorum appeared in good spirits and even refreshed as he debated with the NBC comedian about gay marriage, health insurance and how he was able to support his one-time bitter rival. He even brought Jay Leno his very own Rick Santorum-embroidered sweater vest.
I felt comfortable after that meeting, Santorum said of his one-on-one chat with Romney on Friday. We decided to put it out at night so it's the first thing people saw in the morning.
The former Pennsylvania senator officially announced his support for Romney a few weeks after he suspended his campaign, in an e-mail sent out at around 10 p.m. ET, a relatively low-key way for a politician to announce an endorsement (former candidates Newt Gingrich and Michele Bachmann, for example, announced their endorsement of Romney in press conferences in the middle of the day.)
When Leno asked Santorum about calling Romney the worst Republican to go up against Obama, Santorum replied not at all.
The former candidate said the quote was taken out of context and specifically about Romneycare - the health insurance plan he implemented in Massachusetts that Santorum said inspired Obama's health care reform -- but said he was now confident that Romney will work with the Republican congress to repeal Obama's health insurance legislation.
Leno and Santorum did not agree on very much, though, as the late-night host grilled him on health insurance and same-sex marriage. Santorum is against civil unions and gay adoption.
I have gay friends, some men and some women, who are wonderful parents. They adopt children and these children seem very happy, Leno said, asking Santorum if sending kids to an orphanage is better than letting them adopt.
Santorum said an orphanage was not a better option than letting gay couples adopt, but said he wanted to give kids the best opportunity.
Marriage is an institution that has a defined benefit for society ... men and women are different and they bring different attributes to the relationship, Santorum said.
© Copyright IBTimes 2023. All rights reserved.