Jeff Sessions Wins Alabama Senate Race 2014: Republican Re-Elected In Uncontested Race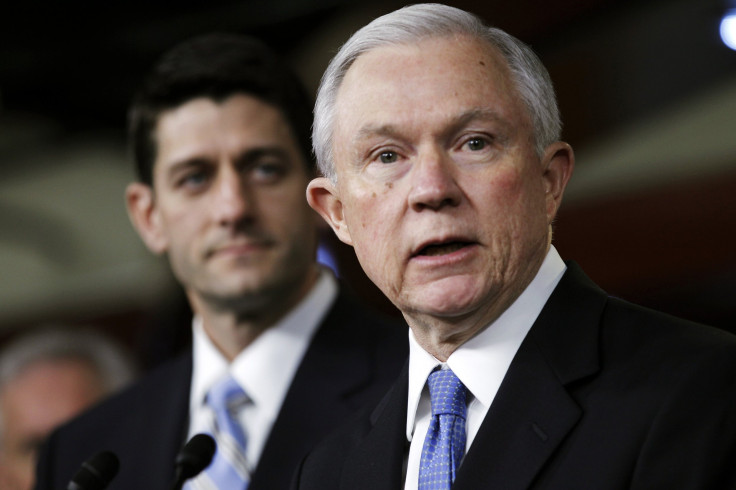 Republican U.S. Sen. Jeff Sessions was re-elected in Alabama Tuesday in an unopposed campaign. Now a four-term senator, Sessions has held the office since 1997.
As the only unopposed candidate for the U.S. Senate in 2014, Sessions' re-election was a foregone conclusion. The 67-year-old was Alabama's only senatorial candidate to submit his candidacy ahead of a February deadline.
Sessions is likely to chair the Budget Committee if the GOP takes control of the Senate, USA Today reports. He has served as the committee's ranking minority member since 2011. The Alabama senator spoke Tuesday morning on how a successful Republican effort in the midterms could affect the country's direction.
"I feel good about the Republican candidates in the state and I'm saying we're going to have the majority in the Senate," he told AL.com. "And if that's the case, we've got to sit down and write a budget that will put this country on the right path. We can't do everything with a budget, but we can put the country on much sounder financial footing. … If we can get this economy moving and quit doing the things that prohibit growth, Alabama ... can sustain that growth."
Sessions was nominated in 1981 by then-President Ronald Reagan to become U.S. attorney for Alabama's Southern District. Prior to his tenure in the Senate, Sessions served as the 44th attorney general of Alabama from 1995 to 1997.
A staunch Republican, Sessions votes with his party 89 percent of the time, the Washington Post notes. He has been particularly critical of President Barack Obama's policies on illegal immigration, arguing in a column for Fox News on Monday that work permits for illegal immigrants would have an adverse effect on wages for citizens.
"After years of mass immigration, falling wages, and surging joblessness, isn't it time we focused on the needs of the people living here today? Isn't it time we got our own people back to work?" he wrote.
© Copyright IBTimes 2022. All rights reserved.
FOLLOW MORE IBT NEWS ON THE BELOW CHANNELS