How The U.S. Midterms Could Affect The Future Of Iran Nuclear Talks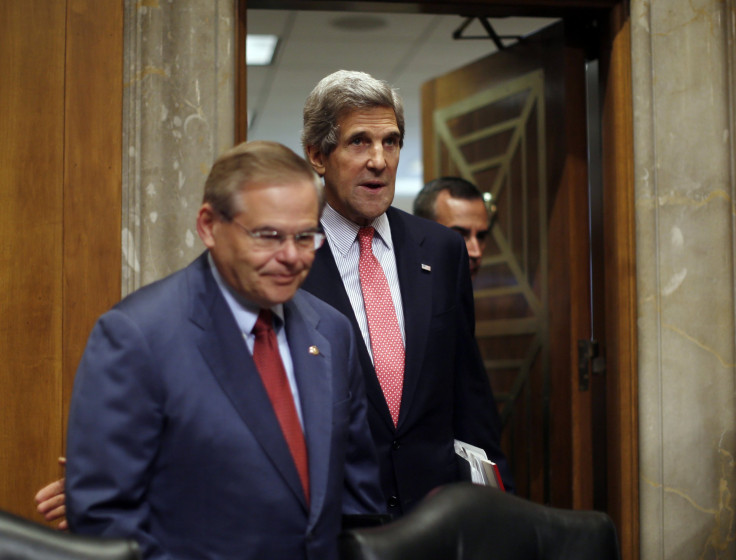 The deadline for an agreement with Iran on the future of its nuclear program is three weeks away, and the international community is still not sure whether there will be a deal. If Western nations and Iran don't reach an agreement, U.S. senators have vowed to impose even stricter sanctions on Tehran. But Tuesday's U.S. midterm elections, which are predicted to result in a Republican Senate, could affect that process. Legislation currently in Congress is set to impose stricter sanctions on Iran, but two bills could be dropped, depending on whether power shifts from a group of lawmakers colloquially known as "sanction mongers" who have a hardline stance on Iran.
At stake is one of the most important foreign policy issues of Barack Obama's presidency. "There is probably nothing out there that the Obama administration could achieve that would rival a diplomatic solution to this Iranian nuclear issue," Alex Vatanka, an expert on Iran at the Middle East Institute in Washington, said.
A bill currently being discussed that could derail that diplomatic solution is the Nuclear Weapon Free Iran Act of 2013, sponsored by Sen. Robert Menendez of New Jersey and Sen. Mark Kirk of Illinois in December 2013 -- both, in fact, Democrats. Neither the House nor Senate has voted on this bill yet.
The premise of the bill is that Iranian sanctions can be averted only if the Obama administration provides specific certifications every 30 days and if Iran implements the terms of the so-called Joint Plan Of Action. The proposed legislation also expands the number of blacklisted sectors to include Iran's mining, construction and engineering industries. In addition, it penalizes foreign financial institutions that conduct transactions with Iran's blacklisted entities using foreign currencies and foreign individuals who conduct transactions with Iran's Central Bank. It also expands the number of senior officials in Iran subject to sanctions.
Edward Levine, a former Senate Foreign Relations Committee staffer and a member of the Center for Arms Control and Non-Proliferation's Advisory Board, recently wrote that if the bill is enacted in its original form, it would kill any prospect of a peaceful deal with Iran, because it would make sanctions relief impossible. "All parties to the negotiations will interpret (the bill) as barring the United States from implementing the sanctions relief proposed in any feasible agreement. Rather than buttressing the U.S. position in the negotiations, therefore, (it) will bring an end to those negotiations. Worse yet, (it)will create large fissures in the ... coalition that has imposed international sanctions on Iran," he wrote.
The Joint Plan of Action or JPOA is a deal signed by the negotiating group known as P5+1 -- the five permanent members of the U.N. Security Council plus Germany. The JPOA called for a temporary freeze of parts of Iran's nuclear program in exchange for reduced economic sanctions. The deal was signed in November 2013, and the implementation of the agreement began in January 2014. It was supposed to end in July with a final deal on the future of Iranian sanctions, but that term has been extended until Nov. 24.
The Kirk-Menendez bill isn't the only "sanction monger" proposal that would expand the scope of Iranian sanctions.
All of the specifications in the Nuclear Weapon Free Iran Act of 2013 are also included in House Resolution 850, introduced by Rep. Edward Royce, a California Republican who is also the Chairman of the House Commitee on Foreign Affairs. It passed the House in July 2013, but the Senate still needs to vote on the legislation.
The outcome of the midterm elections could slow or even stop Congress from passing these two bills. Three committees, including the Foreign Relations Committee, now chaired by Menendez, are likely to see a shift to Republican leadership, according to polls. The Foreign Relations Committee may be headed by Bob Corker, Republican of Tennessee. Corker is likely to be skeptical of any deal reached over Iran's nuclear energy program, but is also known for his willingness to work with Democrats. Because of his previous history of reaching across the aisle, a Corker chairmanship might mean the Menendez-sponsored bill might not make it to a vote. Senate majority whip Dick Durbin, Democrat of Illinois, who is likely to be elected, has said previously that he supports the White House decision to try and reach an agreement with Iran.
"I think most of us feel these negotiations should have a chance," Durbin told Politico in February. "The alternative to Iran negotiations are a nuclear-armed Iran, which is unacceptable, or a war, equally unacceptable. We have to give these negotiations a chance."
Still, if Republicans win control of the Senate, there is a possibility that the Kirk bill will be revived and passed. Some Democrats could join the Republican push to have the bill passed if they face political pressure from pro-Israel lobbying groups, which oppose a deal with Iran.
Royce, who sponsored House Resolution 850, is competing against Democrat Peter Anderson. The Washington Post predicts that Royce will win, which means his bill still has a chance of getting a vote.
The White House may choose to bypass Congress if an agreement with Iran is reached -- a possibility
first broached
in the New York Times and one of increasing concern of top U.S. senators. "If agreement is reached, President Obama will do everything in his power to avoid letting Congress vote on it," the Times wrote. That's because the administration thinks that the pending legislation extending even harsher sanctions on Iran would polarize the P5+1 and push Iran away from the negotiating table.
The State Department has denied the claim that the president will try and bypass Congress on the Iran nuclear deal.
"The Administration believes Congress has a very important role to play on Iran's nuclear issue," Deputy State Department spokeswoman Marie Harf said in a recent press briefing. "There are many ways Congress can play a role in these negotiations and discussions. We have had multiple, countless briefings with experts and negotiators; hearings, phone calls with members of Congress. So we've been clear that we don't believe they should take an up-or-down vote, but there are many, many other ways."
Correction: A previous version of this article stated Kirk's seat would likely go to Senate majority whip Dick Durbin. While Durbin is up for reelection this year, Kirk is not up for reelection until 2016. Kirk said in April that he would campaign for Jim Oberweis, the Republican Senate candidate.
© Copyright IBTimes 2023. All rights reserved.
FOLLOW MORE IBT NEWS ON THE BELOW CHANNELS