Jenny Packham Inspired By Sin City For Glitzy Spring 2013 Collection At Mercedes-Benz Fashion Week [PHOTOS]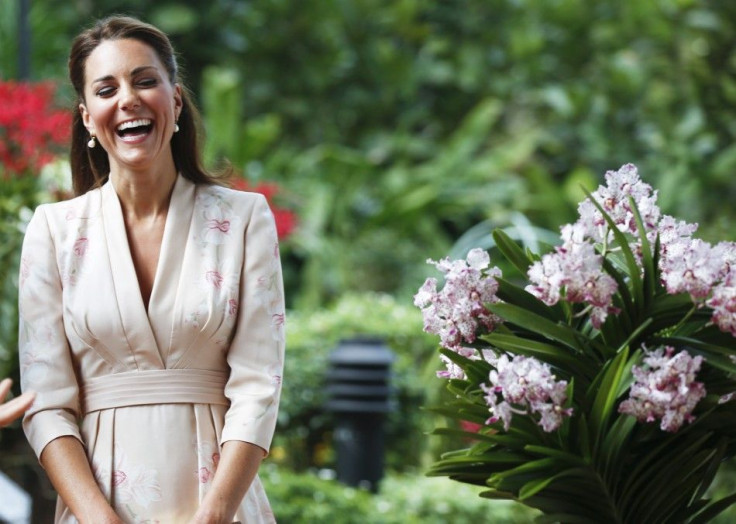 Tuesday was quite a day for designer Jenny Packham. Amidst all of the excitement on the day of her show at Mercedes-Benz Fashion Week in New York, Kate Middleton donned a bespoke dress by the British imported designer for the first day of her Diamond Jubilee tour. Packham told IBTimes the dress, a kimono inspired pale pink dress she wore in Singapore, was "very much a collaboration" with the Duchess of Cambridge, who frequently wears her dresses.
"The piece we did for her was especially for the tour and it was a bespoke piece," Packham said of the orchid-print dress perfect for a visit to The Singapore Botanical Gardens. "It was very much a collaboration, so it was great."
But for her Spring 2013 collection, Packham took a trip to Las Vegas, Nev. for inspiration but having never been there prior, was disappointed to find her presumptions of Sin City were not what she expected.
"I actually went to Las Vegas in April with my family and I think I was sort of very disappointed," the designer explained backstage after her show. "I think in my mind I had this sort of image of Sharon Stone at the early part of the Casino film or with The Rat Pack." Instead, Packham said she was "inspired by what it used to be," like the women caught in the heyday of the infamous Frank Sinatra, Dean Martin and Sammy Davis, Jr. 1960's Rat Pack.
"I looked into the sort of Rat Pack mascots which were Shirley McLaine, Lauren Bacall and Angie Dickinson," Packham said. "They were like these really kind of bold, spunky confident women who used to kind of hang out with the Pack as opposed to sort of sleep with them, I suppose. They didn't chase the pack, they ran with it."
That essence of those leading ladies in films like the original "Ocean's 11" who ruled the Strip and the casino scene came out in the glitz and glam that is signature Jenny Packham eveningwear. In black, silver, gold, white, waterfall blue and a muted sunset tangerine, striking monotones were paired with geometric embellished Swarvoski crystals in both swinging mini dresses as well as body-con full lengths gowns of silk crepe and silk chiffon. Details like capped sleeves with either ladylike round, V-neck and bateau necklines added demure elegance just like the women who inspired her maintained. The show-stopping finale dress, a white silky gown with a rhinestone cape attached to the shoulders, added the modern edge the young-guns like Minka Kelly, Lauren Conrad and Jordana Brewster who were sitting front row, look for.
"We took a lots of inspiration from the early 60's, but obviously try to make it much more contemporary," Packham said afterwards. "It was just taking the ideas and make it fresh and young and pretty, which I hope we achieved."
Pretty, you hope? Understatement of the year.
© Copyright IBTimes 2023. All rights reserved.