Jerusalem Attacks: At Least 3 Israelis Killed After Palestinians Stab, Open Fire In Bus; Hamas Praises Attacks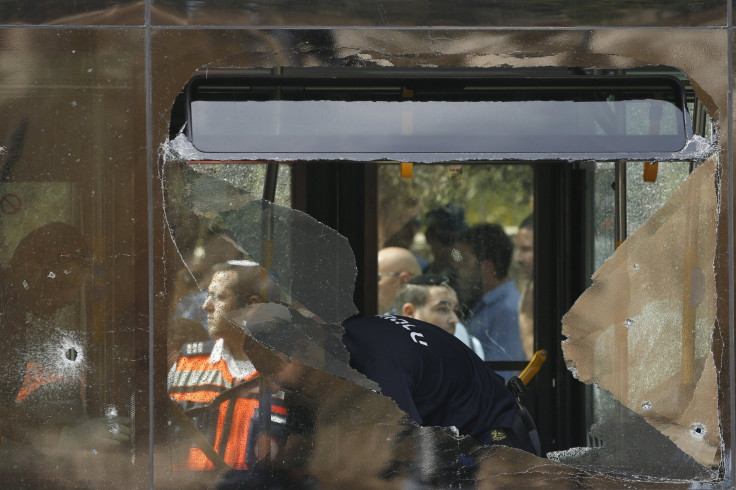 At least three Israelis were killed Tuesday in shooting and stabbing incidents in Jerusalem, Israeli police said. Earlier in the day, a Palestinian man stabbed and wounded an Israeli in Ra'anana, north of Tel Aviv.
An attacker opened fire in a bus and another assailant rammed his vehicle into a bus stop and stabbed people in two separate incidents in Jerusalem, according to the Associated Press (AP). One of the assailants was reportedly killed and the other was taken into police custody.
The Tel Aviv attacker was captured and beaten by people, according to reports. Later, an Israeli woman was stabbed and wounded in a second attack in Ra'anana, BBC reported, citing Israeli police. The attacker fled, but was later arrested, according to BBC.
Gaza's Hamas rulers praised the Jerusalem attacks, according to the AP. Hamas spokesman Sami Abu Zuhri reportedly said it "praises these heroic operations in Jerusalem and greets the heroes who carried them out."
Following the attacks, Palestinian protesters in Gaza have been pelting stones and burning tires toward Israeli positions near the Israeli border, the AP reported, citing Israeli military. The army is reportedly using "riot dispersal means" against the demonstrators.
Israeli Prime Minister Benjamin Netanyahu is expected to call the security cabinet for an emergency meeting Tuesday afternoon, the prime minister's office said, according to Haaretz. In the meeting, police will set out a plan to put down the recent spate of attacks, acting Israel Police Chief Benzi Sau reportedly said.
Since the Jewish New Year in September, seven Israelis have been reportedly killed and dozens injured in a shooting, a stoning and a series of stabbings.
© Copyright IBTimes 2023. All rights reserved.