Joyce Banda: Malawi's New President Wants A Fresh Start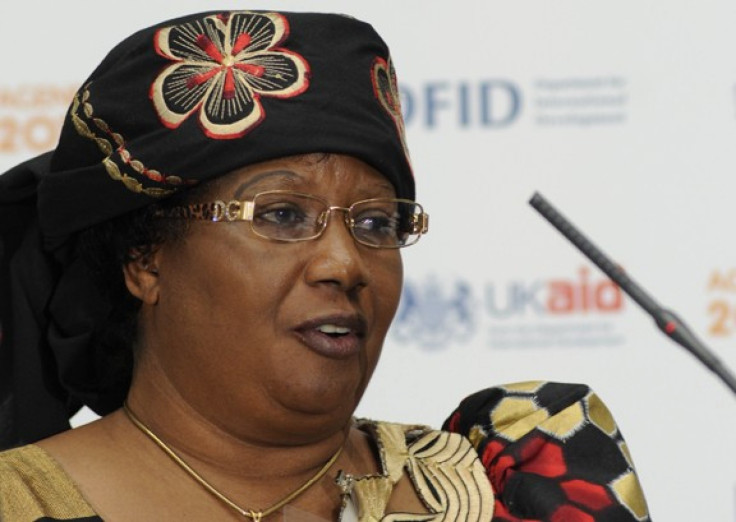 Three days after being sworn into office, Malawi's first female president Joyce Banda is hard at work trying to bring the African country back to a place of economic stability.
Her predecessor Bingu wu Mutharika, who died of a heart attack on Thursday, became a villainous figure for many Malawians at the end of his life due to his row with Britain, their former colonial master, that cost Malawi $30 million in annual aid. But on Tuesday, Banda promised to rebuild the relationship with Britain and other donors, and she reportedly called Secretary of State Hillary Clinton to ask the U.S. to unfreeze the $350 million in economic aid once given through the Millennium Challenge Corporation, a congressionally established aid organization.
On my part, I pledged that Malawi will resolve the issues that led to the suspension of the MCC, the new president said, according to the Marabi Post.
And particularly pledged that we want to restore rule of law and democratic principles in our country, respect for human rights and freedoms as guaranteed by our constitution, and to demonstrate good governance, especially economic governance, she added, referring to U.S. and UK policies to only give aid to countries with good human rights records.
She also reportedly talked to UK Parliamentary Under Secretary of State Henry Bellingham, who said that a new envoy would be dispatched to Malawi.
[Bellingham] said as soon as we do something on some of the bad legislation we have, British aid will resume," Banda said, according to the Telegraph.
Banda has also started to make good on her pledge to reverse Mutharika's poor human rights record. She fired national police chief Peter Mukhito, who was in charge when 19 people were killed in anti-government protests last year, and replaced him with veteran officer Lot Dzonzi on Monday, the Malawi Voice reported. She also let go of the minister of information and the head of state broadcasting, both Mutharika appointees.
A day later, she opened an investigation into the 2011 death of democracy activist Robert Chasowa, who died in mysterious circumstances after publishing critical reports on the government.
"The past few years have been some of the worst Malawians can remember and we are looking forward to international relations improving," John Kapito, from Malawi's Human Rights Commission, told the Telegraph.
© Copyright IBTimes 2023. All rights reserved.