JPMorgan CEO Jamie Dimon Issues Mea Culpa Over $2B 'Egregious Mistake'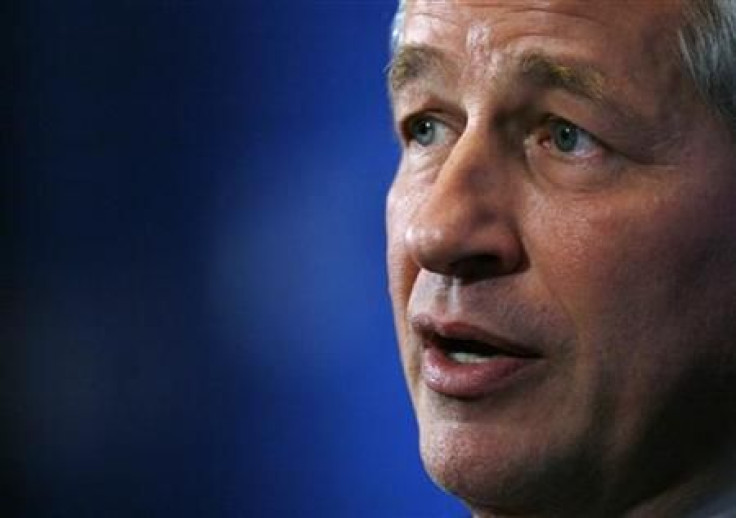 JPMorgan Chase & Co. (NYSE: JPM) CEO Jamie Dimon offered a mea culpa on NBC's Meet The Press Sunday, saying the mammoth money-center bank was dead wrong to dismiss concerns over a series of hedges that ended up costing the company $2 billion.
This is a stupid thing that we should never have done, but we're still going to earn a lot of money this quarter, so it isn't like the company is jeopardized, he said during the interview. We hurt ourselves and our credibility, yes - and that you've got to fully expect and pay the price for that.
JPMorgan Chase revealed on Thursday a series of bad bets from trading in credit derivatives, designed to hedge against financial risk, costing the company $2 billion in the span of six weeks.
Reports of the outsized hedge first emerged in early April in a Wall Street Journal story chronicling bizarre movements in some credit markets attributed to JPMorgan trader Bruno Michel Iksil, dubbed the London Whale.
The company initially downplayed the risks of Iksil's activities, a mistake Dimon copped to during the interview.
We got very defensive. And people started justifying everything we did,'' Dimon said, alluding to his own moment of downplaying the London Whale's danger by calling concerns a tempest in a teapot during a quarterly earnings conference call.
So first of all, I was dead wrong when I said that, Dimon said. I obviously didn't know because I never would have said that. And one of the reasons we came public was because we wanted to say, 'You know what, we told you something that was completely wrong a mere four weeks ago.'
The Securities and Exchange Commission has launched an investigation into the trades. Dimon promised JPMorgan's full cooperation.
So we've had audit, legal, risk, compliance, all of our best people looking at all of that, Dimon responded. We know we were sloppy. We know we were stupid. We know there was bad judgment. We don't know if any of that is true yet. But of course regulators should look at something like this. That's their job.
The loss will likely nix any gains within the business unit containing the funds, with the company estimating a $800 million quarterly loss within that unit alone, a $1 billion swing from initial forecasts of a $200 million profit. The company still expects revenue of $4 billion for the quarter.
The company's stock has plummeted since the failed hedge's emergence, falling 7 percent and closing at $36.96 on Friday afternoon. It was priced at $40.74 before the news.
Despite the $2 billion loss, Dimon asserted JPMorgan Chase remained very strong.
This is a mistake, he said. We're going to pay a price for it. I understand it. We deserve a lot of the criticism we're getting.
Critics of the financial industry have seized upon JPMorgan's misfortunes to reignite ongoing debates over a piece of legislation dubbed the Volcker Rule, after former Federal Reserve Chairman Paul Volcker. The law, still in draft phases, would limit the number of risky bets banks can make, the sort of proprietary, in-house trading JPMorgan engaged in.
Dimon has been among the most vocal critics of the rule, joining a chorus of financial titans and lobbyists that have dubbed the Volcker Rule a needless impediment to growth.
The bank went so far as to lobby regulators and officials to create loopholes in the law that would allow it to continue its trading practices, according to a report by the New York Times.
If the intent of the Volcker Rule was to eliminate pure proprietary trading and to ensure that market making is done in a way that won't jeopardize a financial institution, we agree, Dimon wrote in the company's annual report. We, however, do disagree with some of the proposed specifics because we think they could have huge negative unintended consequences for American competitiveness and economic growth.
Sen. Carl Levin, D-Mich., said in an interview with NBC the company's alleged efforts to water down the Volcker Rule's final incarnation will certainly fail.
This was not a risk-reducing activity that they engaged in. This increased their risk, Levin said. So we've got to be very, very careful that the regulators here are not undermined by this huge effort to weaken the rule by putting in a huge loophole.
© Copyright IBTimes 2023. All rights reserved.
FOLLOW MORE IBT NEWS ON THE BELOW CHANNELS