Politicians, SEC, Fitch Draw Bead On JPMorgan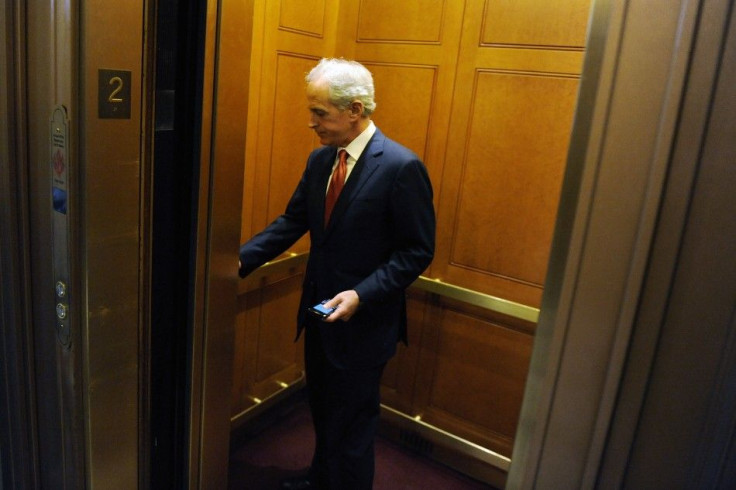 Fitch Ratings on Friday downgraded JPMorgan Chase & Co. (NYSE: JPM), which just revealed at least $2 billion in losses on questionable trading. The downgrade came the same day a U.S. senator called for a Congressional probe of the giant bank and the head of the Securities and Exchange Commission confirmed that her agents are eyeing the big institution's hedging activity.
In after-market trading, shares of JPMorgan extended a more than 9 percent plunge.
The magnitude of the loss and ongoing nature of these positions implies a lack of liquidity, Paris-based Fitch Ratings said in a statement. It also raises questions regarding JPM's risk appetite, risk management framework, practices and oversight; all key credit factors.
On the political front, U.S. Senator Bob Corker (R-Tenn.) asked the Senate Banking Committe to hold a hearing as expeditiously as possible to investigate what happened at JPMorgan Chase & Co. (NYSE: JPM), the nation's largest bank by assets, that led to the announcement on Thursday of at least $2 billion in losses.
Those losses came from an egregious trading strategy that was initiated within its corporate treasury, and stood to grow by at least $1 billion more in the near future. The trading loss immediately garnered an immense amount of political scrutiny, as JPMorgan CEO Jamie Dimon predicted it would upon announcing the developments, because it was the result of an action that could easily be considered to violate the spirit of new financial system regulations prohibiting proprietary trading.
Corker specifically asked the Senate to investigate if that was the case.
I have been vocal in my belief that we need a vibrant capital market for debt and equity securities and about the need for balance in ensuring that we have a financial system that can meet the needs of a 21st-century economy, Corker wrote in a letter to Banking Committee chairman Tim Johnson. That said, clearly the losses posted by JPMorgan are significant, and as policy makers we should understand in detail what has transpired.
The demand for action seemed somewhat uncharacteristic of the senator's track record. Corker has previously opposed imposing new financial regulation on banks, specifically speaking against limits on card fees, regulation of the derivatives industry and the suggested re-imposition of the Glass-Steagall Act.
Corker was not the only public figure asking Congress to subpoena bankers.
The SEC was reported to have begun an investigation of JPMorgan's trading practices earlier in the month. Rep. Barney Frank (D-Mass.) said in a statement that this regrettable news from JPMorgan Chase obviously goes counter to the bank's narrative blaming excessive regulation for the woes of financial institutions.
Citing a JPMorgan comment in a recent Economist article saying new financial regulations would cost the bank $400 million, Frank noted that JPMorgan Chase, entirely without any help from the government has lost, in this one set of transactions, five times the amount they claim financial regulation is costing them.
The argument that financial institutions do not need the new rules to help them avoid the irresponsible actions that led to the crisis of 2008 is at least $2 billion harder to make today.
© Copyright IBTimes 2023. All rights reserved.
FOLLOW MORE IBT NEWS ON THE BELOW CHANNELS