JPMorgan Chase (JPM) Detroit Investment Aims To Revitalize City Center And Make The Company A Buck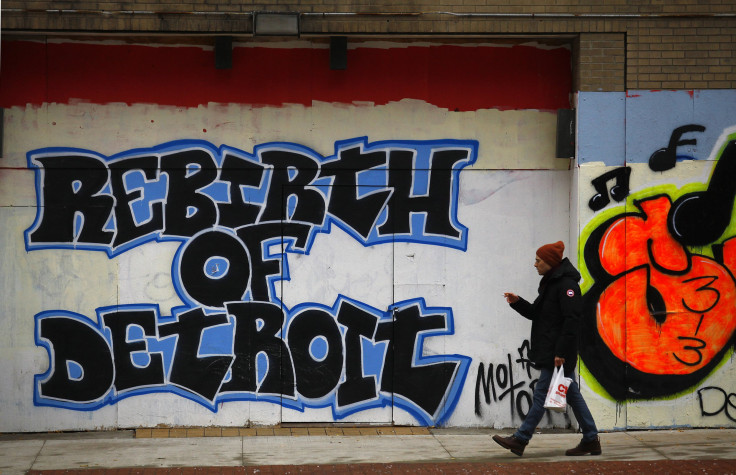 In 2013 JPMorgan Chase (NYSE:JPM) paid $20 billion in fines for various regulatory infractions and the next year it gave its CEO Jamie Dimon a raise. It was definitely not the bank's finest hour.
Well, now Dimon's offered up his candidate for the bank's "finest moment" in the form of an announced plan to invest $100 million in Detroit over the next five years to rebuild the city as well as one of its own urban markets.
"This could be our finest moment," Dimon told NBC's "Today" show on Wednesday morning. "Can Americans come together with , labor and city leaders to fix the city? We've seen the rebirth of cities all over America. It would be an unbelievable thing if we can see a rebirth here."
That kind of chatter from a top executive making an investment can't help but sound a lot like PR to many folks, but Dimon says that's not the case, and there is an argument to be made that the bank has solid roots in the city and could do well by doing good. JPMorgan has 2,500 workers in the Detroit area and about 1 million customers, according to the Detroit Free Press.
"We're doing this to grow investments, to grow the city, and create a healthy and vibrant city,'' Dimon said. "And if that happens, it's good for us, too. I also look at it as an American patriot. This is one of the few cities that hasn't had a renaissance. Most other cities have. If it's done right, they can have one here, too," he told "Today."
There's a good chance you should believe him, too. Dimon's not in the business of losing money, and he's done his research on the city with Quicken Loans CEO Dan Gilbert, who just happens to own or control 40 buildings in Detroit's struggling downtown, according to the Detroit Free Press. The Free Press said Dimon told it in an interview that "obviously, Detroit was having issues. I got together some of our senior people and said, 'What can we do that's really neat, that could be really creative?' "
So Dimon called Gilbert, who put him in touch with the kind of insiders bankers work with when looking for the best bang for their investment buck.
Gilbert told the Free Press, "No one's forcing them to do this by any means. I think they're doing it because they think Detroit's not only in need of help in a lot of areas, but they believe in the long-term growth and they want to be involved in the ground level. So I think it's very, very important and very exciting."
Detroit's problems are not small scale. The city declared bankruptcy last year and is still struggling to resolve the case.
Wide swaths of downtown have been virtually abandoned and are slowly being reclaimed. Those areas will be in desperate need of financing as brave souls begin repopulating the zones with homes and businesses.
According to Website Marketplace, Capital Impact Partners, a nonprofit community development financial institution will receive $20 million in loans and $5 million in grant money from Chase. The group's CEO, Terry Simonette, told MarketPlace, "As people re-occupy those neighborhoods they need food, bakery, they need coffee shops, they need supermarkets."
The bank's money will also contribute to general development, blight removal and home loans, job training and small business loans as well as investment in Detroit's transportation initiatives.
© Copyright IBTimes 2023. All rights reserved.
FOLLOW MORE IBT NEWS ON THE BELOW CHANNELS