JPMorgan's Jamie Dimon Optimistic on Housing, Stress Tests, MF Global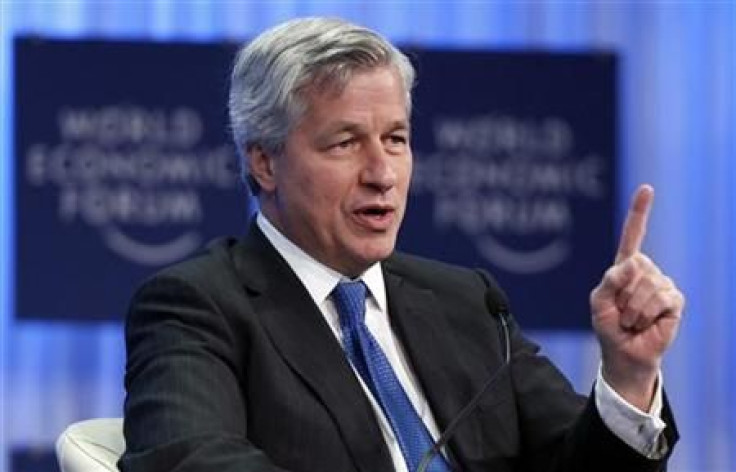 Going on a short media blitz Monday afternoon, Wall Street power and JPMorgan Chase CEO Jamie Dimon sounded a highly optimistic note on the American economy, the housing market and even the chances of customers bilked by bankrupt broker-dealer MF Global getting their money back.
"When you look at all the sectors - corporate, middle market, business, consumer - for the most part they're better than they were a year ago," Dimon told CNBC anchor Maria Bartiromo during a post-market interview Monday, adding that "housing is at or near the bottom."
And Dimon's upbeat comments on the state of the recovery were not even his most optimistic remarks. Answering a question about JPMorgan's recovery of funds lent to bankrupt broker MG Global, Dimon said "I still think there's a good chance" all the segregated funds currently missing from customer accounts will be found.
Dimon's optimism also extended to the results of the upcoming stress tests of large American banks to be conducted by the Federal Reserve, which he believes his bank and others will pass with flying colors. So confident is Dimon that JPMorgan will easily exceed the government requirements that he told Bartiromo of possibly pursuing further buybacks of company stock, which he said is now "below intrinsic value."
Earlier in the day, at a bank-sponsored health care conference in San Francisco, Dimon was quoted by Bloomberg News discussing the possibility of pursuing further acquisitions, even if it chafed regulators attempting to corral too-big-to-fail financial institutions.
"We would probably be willing to do something even if we might end up with some egg in our face," Dimon is quoted as saying.
While not as optimistic about the situation in Europe, the CEO downplayed the impact even catastrophic developments there would have on his bank.
"If there is a terrible outcome, we could lose $5 billion," he said. "If the worst happens, I'm not going to feel terrible, I'll feel terrible for them."
Earlier in the day, Dimon had been quoted by the Dow Jones Newswires stating his views on housing, reiterating what he sees as a likely bottom.
"It could be there for a year, but once you see employment grow 300,000, 400,000, 500,000 a month, you better buy right away," he said.
© Copyright IBTimes 2023. All rights reserved.