Julia Roberts Stuns In Pink Swimsuit During Beach Outing With Family
KEY POINTS
Julia Roberts, husband Danny Moder and their three children hit the beach in Australia on Christmas Eve
Roberts turned heads in a bright pink one-piece swimsuit
The couple was photographed taking a sweet stroll along the beach and packing on PDA
Julia Roberts wowed in a pink swimsuit when she hit the beach with her family on Christmas Eve.
The "Pretty Woman" actress, 54, was photographed rocking the bright one-piece swimsuit, which highlighted her lean legs and fit figure, during a beach outing in Sydney, Australia, Friday, Page Six reported.
Her husband Danny Moder flaunted his abs when he ditched his shirt and went for a dip.
Paparazzi also captured the two taking a sweet stroll along the beach. Roberts wore a paisley pullover dress over her swimsuit, while Moder had on a long-sleeve tee before heading to the water. They both rocked trucker hats to shade their faces from the sun.
At one point, the couple was seen packing on PDA, with Roberts wrapping her arms around her 52-year-old cinematographer husband's waist and kissing his neck.
Their three children were all present during their getaway. The couple shares 17-year-old twins Phinnaeus and Hazel and 14-year-old Henry.
Roberts has been in Australia for the past few months to film her upcoming movie with George Clooney. The pair will reunite on the big screen for the romantic comedy "Ticket to Paradise," which also stars Kaitlyn Dever, Lucas Bravo and Billie Lourd.
Roberts and Clooney are longtime pals. They previously worked together in 2001's "Ocean's Eleven" and its two sequels, "Ocean's Twelve" and "Ocean's Thirteen."
She recently crashed Clooney's virtual interview for "Jimmy Kimmel Live!" while he was promoting his latest movie, "The Tender Bar," a week before the Christmas holiday.
During Clooney's chat with host Jimmy Kimmel, Roberts suddenly appeared in the frame wearing dark sunglasses and simply sat next to Clooney without saying anything.
"Oh my goodness. Wow! Holy moly," the late-night host said once he realized Roberts had joined the call. "George, I don't know if you're aware of this, but the woman sitting next to you... There's a woman sitting next to you. Right there."
Clooney looked around, pretending not to see the actress. Roberts slowly left the screen, leaving her "Money Monster" co-star alone once more.
"Maybe I hallucinated that. Wow. It sure looked like Julia Roberts though," the host joked.
Roberts previously opened up about Clooney and his wife Amal when asked if she gave them parenting advice before the couple welcomed their twins Ella and Alexander in 2017.
"I have, look, just the goofiest two pals on the planet," Roberts said during an interview with Ellen DeGeneres at the time. "Well, you know it's gonna be so fun. They are a great couple and I think they don't need advice from me or anybody else. Because also, nobody's there with you at 3 o'clock in the morning when you're just going, what am I doing?"
Roberts went on to say that parents with twins would eventually figure things out after "trial and error and a whole lot of tears."
"Ticket to Paradise" will hit theaters on Oct. 21, 2022.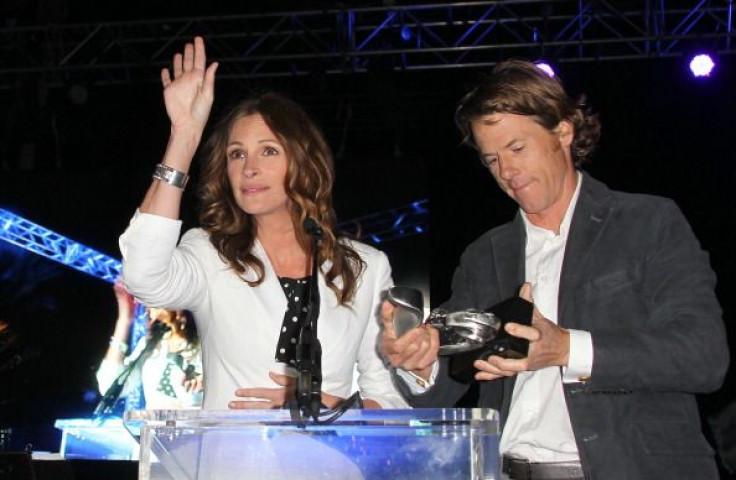 © Copyright IBTimes 2023. All rights reserved.