Junior Seau's Death Prompts Massive NFL Universe Twitter Praise, Lamentation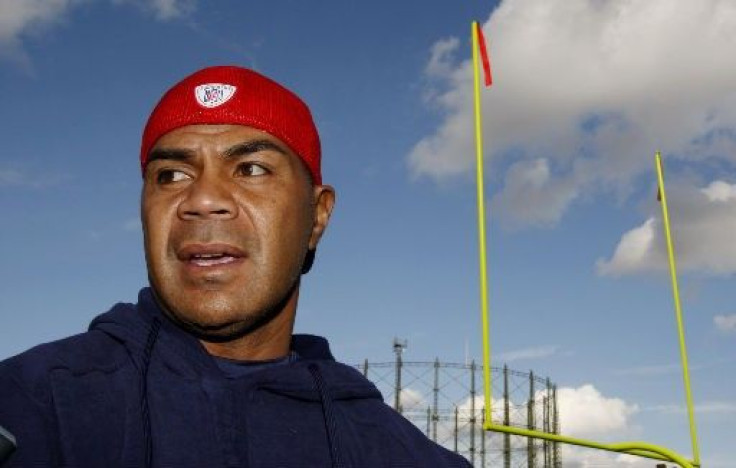 The death of former NFL linebacker Junior Seau has rocked the NFL universe.
Reports say that Seau died from a self-inflicted gunshot wound in his California home on May 2, leaving behind his ex-wife and three children. With his death, he became the eighth member of the 1994 San Diego Chargers' Super Bowl team to pass away.
Seau was a 12-time Pro Bowl selection, who played for the San Diego Chargers, Miami Dolphins and New England Patriots. Current players, former players and teams associated with Seau have praised and lamented the 43-year-old's seemingly abrupt death via Twitter.
Here's what some had to say:
Saddened to hear the news about Seau. Thoughts and prayers are with his family. R.I.P. to one of the greatest of all time. -- Demeco Ryans, Philadelphia Eagles linebacker
My prayers and condolences to the family of one of the NFL's greatest linebackers to ever play the game.. Junior Seau.. R.I.P. -- Chad Ochocinco, New England Patriots wide receiver
RIP 2 junior seau... 1 of the best LB's to ever play the game. -- LaMarr Woodley, Pittsburgh Steelers linebacker
#RIP Junior Seau Such a great player I watched growing up!! My prayers and condolences go out to his family!! Sad to hear.. -- Mark Ingram, New Orleans Saints runningback
At a loss for words right now. R.I.P Junior Seau. -- Justin Tuck, New York Giants defensive end
Sad day in the NFL from too harsh of players suspensions to junior seau passing away. I'm really feeling terrible. #perseverance!! -- New Orleans Saints safety Darren sharper
Saddened 2 hear of the death of NFL GREAT Junior Seau! A great football player but an even GREATER man! He will b missed! #fb. -- Kurt Warner, former NFL quarterback
The Trojan Family lost a legend today. Junior Seau, we will miss you. Our condolences to his family. #RIP55. -- USC Trojans
Everyone at the Chargers is in complete shock and disbelief right now... We ask everyone to stop what they're doing and send their prayers to Junior and his family. - San Diego Chargers
© Copyright IBTimes 2023. All rights reserved.