Justices Sotomayor, Ginsburg and Kagan Write Blistering Dissent On New Supreme Court Contraception Ruling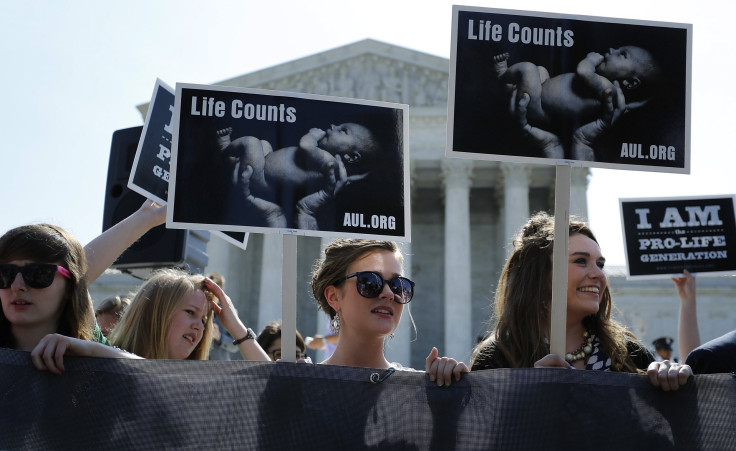 The Supreme Court issued an order on Thursday that temporarily allows a Christian college to notify the federal government it will not provide contraception as part of its health plan via written note, not a federally issued form.
The three female Supreme Court justices fiercely argued that the ruling contradicts the Hobby Lobby decision handed down by the Court earlier this week.
"Those who are bound by our decisions usually believe they can take us at our word. Not so today," Justice Sonia Sotomayor says in her blistering dissent, on which Justices Elena Kagan and Ruth Bader Ginsburg join. "That action evinces disregard for even the newest of this Court's precedents and undermines confidence in this institution."
The Obama administration has allowed non-profits with religious affiliations to opt out of providing contraception, allowing a third-party to do so. Justice Samuel Alito cited that accommodation as part of his reasoning for supporting the Hobby Lobby restriction on providing contraceptive coverage -- because the government provided other avenues for women to obtain contraception. Today's ruling essentially says that accommodation is also an infringement on religious liberty.
The form in question, the Employee Benefit Security Administration (EBSA) Form 700, asks for the organization's name and an authorized signee to certify that the organization has a religious objection to providing emergency contraception.
EBSA Form 700 informs all parties (the federal government and the organization's third party health care provider) of its objection so the latter can provide contraceptive services to the organization's workers. Wheaton College, a Christian school in Illinois, argues that submitting an EBSA Form 700 acts as an endorsement of contraceptives it disagrees with, because it aids the federal government and insurance providers in providing those services. (Wheaton does provide other kinds of contraceptives other than emergency contraceptives.)
Basically, Wheaton College argues that EBSA Form 700 violates their religious beliefs. Wheaton's request to the Supreme Court essentially washes Wheaton's hands clean of anything to do with services it morally disagrees with, or so it argues.
The Supreme Court agreed. Now Wheaton College only has to send a letter informing the government that it won't be providing contraceptives to its employees so the government -- more specifically, Health and Human Services (HHS) -- can make the appropriate arrangements to do so, now without any help from Wheaton.
Read the entire Supreme Court order here, via the New York Times.
The three dissenting Justices argue that Wheaton's complaint created "unnecessary costs and layers of bureaucracy," on the government and requires it to do detective work to find Wheaton's (or any other objector's) third party health care provider. The dissent also questions what the court order changes exactly.
"And, putting that aside, why wouldn't Wheaton's claim be exactly the same under the Court's newly-fashioned system? Either way, the end result will be that a third-party administrator will provide contraceptive coverage. Surely the Court and Wheaton are not just objecting to the use of one stamp instead of two in order to avail itself of the accommodation."
The unsigned Supreme Court order argues that the request is valid because it does not actually stop any Wheaton College employees from obtaining any form of contraception, even if it's more work for HHS.
"I do not doubt that Wheaton genuinely believes that signing the self-certification form is contrary to its religious beliefs," Sotomayor wrote. "But thinking one's religious beliefs are substantially burdened … does not make it so."
The decision is temporary and the court said it may examine the issue further. Lyle Denniston at the SCOTUSblog offers an informed overview of EBSA Form 700 when this legal argument was first brought up by the Little Sisters of the Poor, a New York City-based Christian charity. The court did allow the Little Sisters of the Poor to bypass the Form 700 mandate.
FOR FREE to continue reading
✔️ Unlock the full content of International Business Times UK for free
offer available for a limited time only
✔️ Easily manage your Newsletters subscriptions and save your favourite articles
✔️ No payment method required
Already have an account?
Log in
© Copyright IBTimes 2023. All rights reserved.