Kate 'Ma' Barker, Mother Of 1930's Gangster Fred 'Doc' Barker, Home For Sale; Florida House Still Riddled With Original Bullet Holes [PHOTOS]
The Florida home of Kate "Ma" Barker, matriarch of the infamous Barker gang from the "public enemy era," is currently up for sale.
Barker was famously gunned down at the house at 13250 East Highway C-25 on the morning of January 16, 1935, after her son, Arthur "Doc" Barker, was arrested in Chicago eight days earlier. A map found in his possession indicated that the other gang members were in Ocklawaha, Florida, where the home is located.
The two-story wood frame house, 62 miles northwest of Orlando, is calling for a sale price around $1 Million.
The home has reportedly been kept in the family since the infamous 1935 FBI raid that ended in "Ma" Barker's death. The home is said to still be contain the original bullet holes from the gun-fight in which the FBI reportedly fired 2,000 shots during a four-hour stand-off.
Agents had reportedly run out of ammunition before they entered the home to find that Barker had died in a curled-up position, her slippers on the floor nearby, beneath a bedroom window.
A report filed by the FBI indicates that Fred Barker died with 10 bullet holes in his left shoulder and chest, three bullets in his head, a steel Colt pistol underneath his body and four $1,000 bills folded in his pocket.
The upstairs and downstairs walls are reportedly littered with indentations and raised plaster patches where bullets hit, and at least one through-and-through bullet hole remains un-repaired on the staircase.
The house is 2,016 square feet (187 sq meters) with four bedrooms and 1 1/2 bathrooms. The sale includes 9.5 acres shaded by stands of old oak trees and 1.5 acres of sandy beach on Lake Weir, according to the Daily Mail.
The home, built in 1930 by Miami entrepreneur Carson Bradford, was described as the 'scene of the battle' by then FBI Director J. Edgar Hoover.
The 10-acre estate in southeast Marion County is being sold through Stirling Sotheby's International Realty.
'There's unbelievable interest around the world in crime memorabilia,' Roger Soderstrom, the broker who is conducting the sale told the Orlando Sentinel.
'What is remarkable is this family has preserved all of this through four generations and it's still there and it's in good shape,' Mark Arnold, an agent with Stirling Sotheby's International Realty, told the Daily Mail
'It just has a few bullet holes.'
Click "start" to check out pictures of the Kate "Ma" Barker home.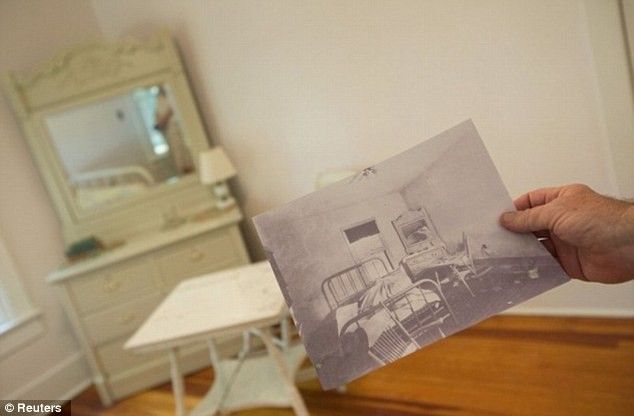 © Copyright IBTimes 2022. All rights reserved.
FOLLOW MORE IBT NEWS ON THE BELOW CHANNELS