Kate Middleton Visits 'Downton Abbey' Season 6 Set; Which Cast Members Did The Duchess Meet? [PHOTOS]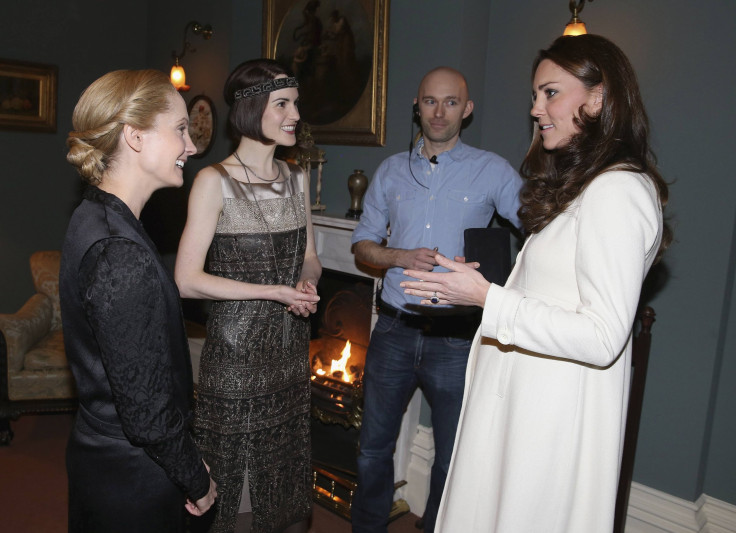 Kate Middleton visited the set of "Downton Abbey" Season 6 on Thursday – but she wasn't hanging out with fictional aristocracy. The Duchess of Cambridge met with many of the actors who play servants on the British drama, Us Weekly reports.
As we previously reported, Kate, 33, scheduled a visit to the set with a full day of activities. She went to Ealing Studios in West London, where the sets for the servant characters are located (Highclere Castle serves as Downton Abbey for the fictional Crawley family). She met several of the actors who portray the staff at Downton, including Phyllis Logan (Mrs. Hughes), Rob James-Collier (Thomas), Lesley Nicol (Mrs. Patmore), Jim Carter (Mr. Carson), Joanne Froggatt (Anna), Brendan Coyle (Mr. Bates) and Sophie McShera (Daisy). Michelle Dockery (Lady Mary) typically doesn't frequent the downstairs set, but she was also filming.
The duchess, who is eight months pregnant with her second child, watched the cast film a scene in one of the servants' bedrooms from behind the cameras. She watched a second take on the monitors with producers. She also took an official photo with the cast in front of the bells that call the servants upstairs.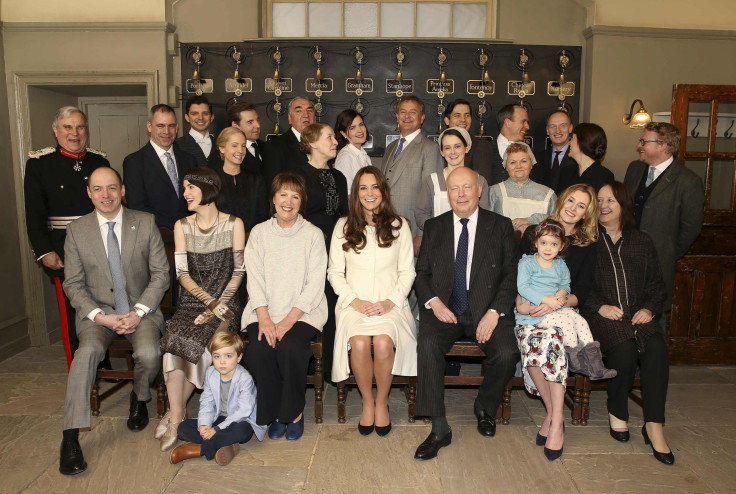 McShera and Nicol, who portray cooks on "Downton Abbey," presented Kate with a cake when she toured the kitchen set. The duchess also attended a reception where she met other cast members, including Hugh Bonneville (Lord Grantham), Elizabeth McGovern (Lady Grantham) and Laura Carmichael (Lady Edith).
Prince George did not attend, but he was given a gift. One of the twins who play Lady Mary's son George (Oliver and Zac Barker) gave Kate a wooden train to pass along to her son. Kensington Palace tweeted a picture of the moment:
Maggie Smith (Lady Violet) did not attend the royal visit. The actress was "was unwell and could not be in attendance," Us Weekly confirmed.
Catherine, Duchess of Cambridge, was shown around set by executive producer Liz Trubridge. She saw the various departments, including props and costumes, and was seen "excitedly peeking into the make-up trailers," according to Hello magazine.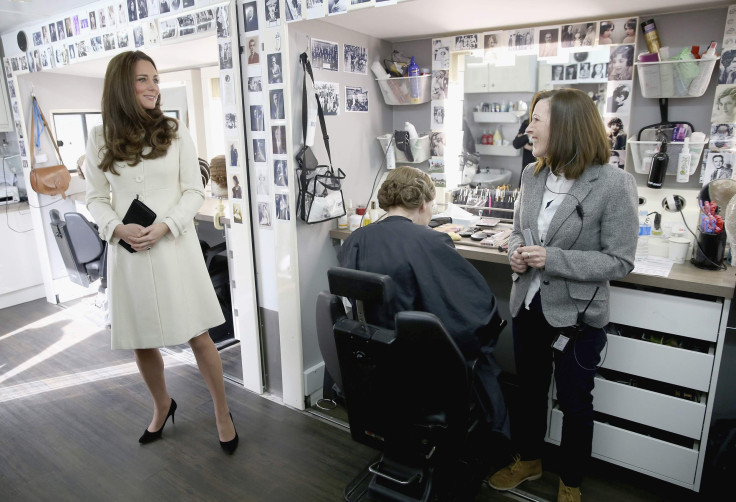 The visit was likely thrilling for the duchess. She and her husband Prince William are known to be big fans of "Downton Abbey." "I actually met the Duke of Cambridge yesterday," executive producer Gareth Neame told Vanity Fair last year. "He said that he was really looking forward to the episode that we run on Christmas Day [in the U.K.], which is the season finale [for American viewers] ... so we know that William and Kate are fans."
"Downton Abbey" Season 6 has not yet announced a return date.
© Copyright IBTimes 2023. All rights reserved.