Kate Middleton's Emerald Look Marks St. Patrick's Day (PHOTOS)
Kate Middleton paid an honoree visit to Aldershot, southwest of London, where she spent St. Patricks Day bestowing shamrock to 1st Battalion Irish Guards infantry Saturday.
The annual event is the first solo engagement for the Duchess of Cambridge following her wedding in April 2011. According to BBC, Kate took part in a tradition that dates back to 1901 and the late Queen Mother is the last to have performed the presentation of shamrocks prior to Kate.
As part of the tradition, a ceremonial parade was held at Mons Barracks to mark the festivities, following which Kate presented the three-leafed clover to 40 officers and warrant officers. Britain's favorite royal also pinned a shamrock to Conmeal, an Irish wolfhound who is also the regiment's mascot.
The Duchess herself had a sprig of shamrock, including a gold brooch attached to her green Emilia Wickstead ensemble. The brooch was previously worn by the Queen Mother on similar occasions. Kate further complemented the look with brown suede heels and an elegant hat by Lock and Co, the Daily Mail said.
The Duchess spent time meeting with members of the regiment, posing for photographs alongside sergeants and officers. She visited the regiment's Mess Hall where she was loudly greeted and toasted to.
Your Royal Highness. On behalf of the 1st Battalion Irish Guards we welcome you and wish you a Happy St Patrick's Day, a soldier said according to the report. We also thank you for the shamrocks that you have presented to us.
According to BBC, the ceremony will help cement the connection Kate and William have with the regiment, of which the Prince was made an honorary colonel in 2011.
Right below are a couple of pictures of Kate bonding with members of the Infantry on St. Patrick's Day.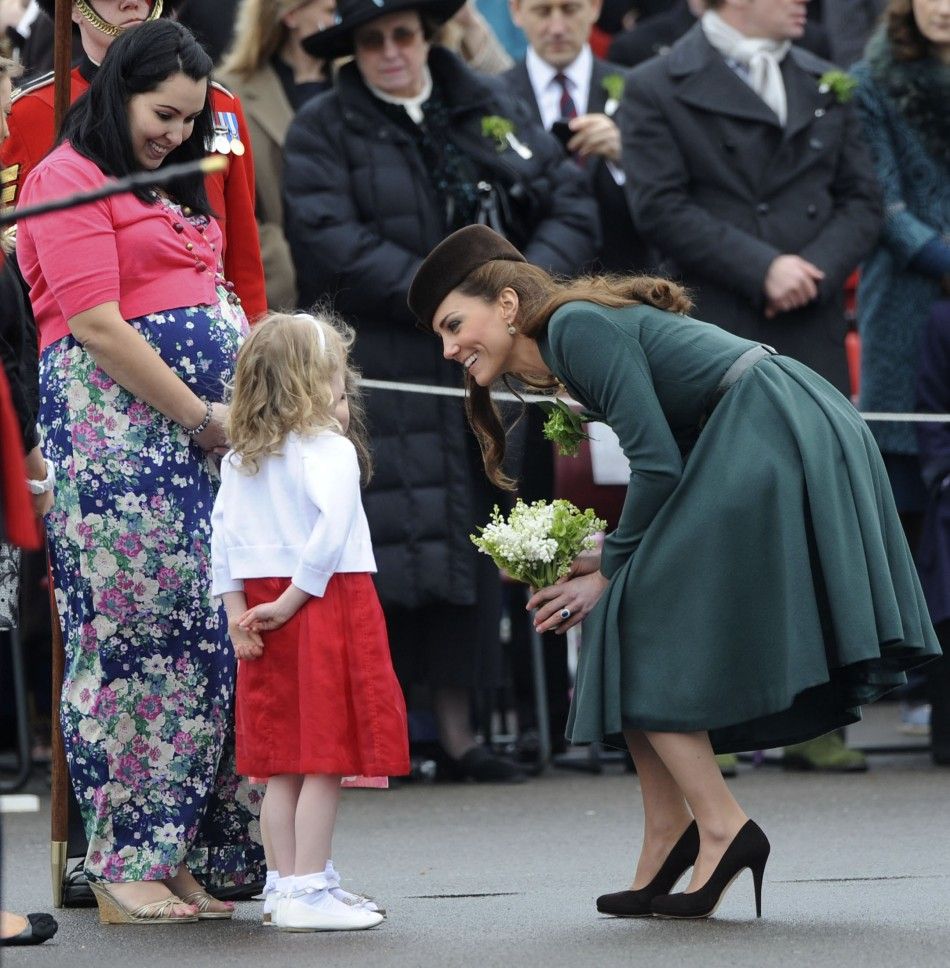 © Copyright IBTimes 2023. All rights reserved.