Kerry Says Sees Opportunity For Progress On Syria As He Meets Zarif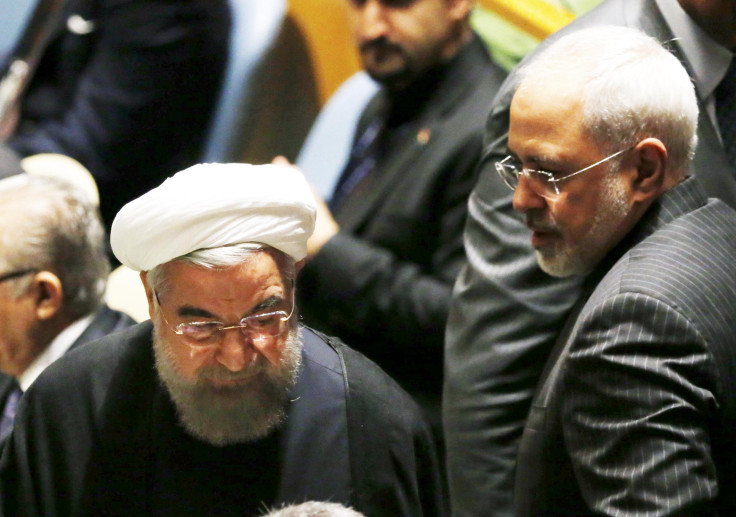 UNITED NATIONS (Reuters) - U.S. Secretary of State John Kerry said he saw an opportunity for progress this week towards ending Syria's four-year civil war, as he met Iran's Foreign Minister Mohammad Javad Zarif on the sidelines of the U.N. General Assembly on Saturday.
Western officials said Kerry wants to launch a new initiative to find a political solution to the Syrian conflict, which has taken on a new urgency in light of Russia's military build-up in support of Syrian President Bashar Assad and a refugee crisis that has spilled over into Europe.
The new U.S. approach, which officials stressed was in its infancy, could bring Russia, a major ally of Assad, together with countries such as Saudi Arabia, Turkey and Qatar that support Syrian opposition groups against Assad.
It is unclear what role, if any, might be played by Iran, which is a long-standing supporter Assad. The United States has long said Assad must go, but in recent weeks has left open the possibility of his staying in power during a transition.
"I view this week as a major opportunity for any number of countries to play an important role in trying to resolve some of the very difficult issues of the Middle East," Kerry told reporters as he and Zarif posed for photographs.
"We need to achieve peace and a way forward in Syria, in Yemen ... in the region," he said. "There are opportunities this week, through these discussions, to make some progress."
Zarif said his priority for the meeting was to discuss the implementation of the July 14 agreement under which Iran agreed to take steps to curtail its nuclear program in exchange for relief from economic sanctions that have crippled its economy.
"We hope that by its full implementation – its good-faith implementation – we can vent some of the mistrust that has existed over the past many decades," Zarif said according to a U.S. State Department transcript.
Iran is willing to discuss Syria with the United States, a senior Iranian official said.
"To help establishment of peace and security in the region, Iran is a key player. Therefore, we can offer our views and solutions to end crisis in Syria and Yemen or any other regional issue," the Iranian official told Reuters.
Diplomats have said Iran might consider Assad's departure but have suggested that Tehran wants him to be succeeded by another Alawite government in Sunni-majority Syria, a position that could be unacceptable to the United States.
During his talks with Zarif, Kerry "conveyed the urgency of seeing our detained and missing U.S. citizens come home to be reunited with their families," Jason Rezaian, Tehran bureau chief for the Washington Post, was arrested in July 2014 and charged with espionage. Two other U.S. citizens are detained in Iran: Christian pastor Saeed Abedini and Amir Hekmati, a former U.S. Marine Corps. sergeant.
Robert Levinson, a private investigator, disappeared in Iran in 2007.
© Copyright Thomson Reuters 2022. All rights reserved.
FOLLOW MORE IBT NEWS ON THE BELOW CHANNELS