Kickass Torrents Missing: Bootleg Movie Site Promises Return After Domain Relocation Goes Awry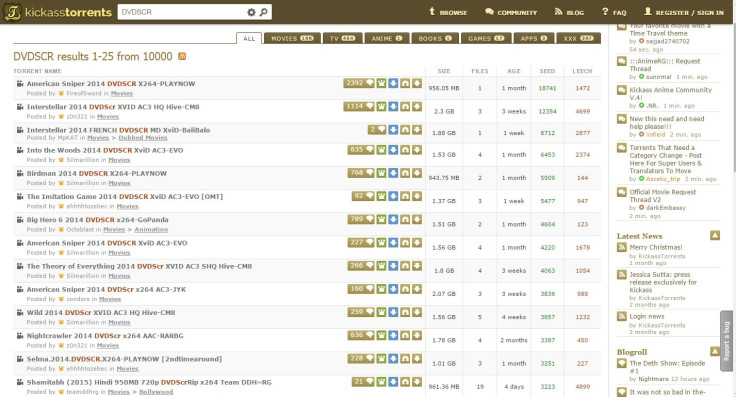 Kickass Torrents is on the run. The popular piracy site was knocked offline Friday after it tried changing domain names, only to go down in the process. Kickass administrators said they expect to return "soon" at Kat.cr.
Kickass Torrents -- a piracy site where Internet users around the globe can illegally download music, movies and popular TV shows just hours after their first broadcast -- was located at Kickass.so, a Somalia-based domain name. But piracy sites often need to relocate to a different page in order to stay ahead of copyright enforcers, who can either block the site in certain countries or confiscate their servers. While relocation is a regular event for them, this was unusual because Kickass.im, the site Kickass moved to, was taken down only hours after launch.
"We have been seized by the Isle of Man domain registry," one administrator told TorrentFreak after the switch. "The new domain will be Kat.cr."
Each domain is subject to different regulations -- Swedish.se and Icelandic.is registries don't revoke a domain without a court order, for instance -- but it seems Kickass didn't stand much of a chance when it moved to an .im address. "The domain was in breach of the .im rules and has accordingly been revoked," an IM registry spokesperson told TorrentFreak. "I cannot correspond further in relation to this domain name."
The move to the Isle of Man website was planned as part of a regular six-month relocation strategy, though the difficulty that followed is the latest strain for major piracy sites. The Pirate Bay, Kickass' predecessor as the most influential rogue site, was taken down as part of a police raid last year, and the increasingly popular Popcorn Time sites have been plagued by legal challenges throughout Europe.
© Copyright IBTimes 2023. All rights reserved.