Kim Davis Case: Judge Rejects Latest Stay Request From Kentucky Clerk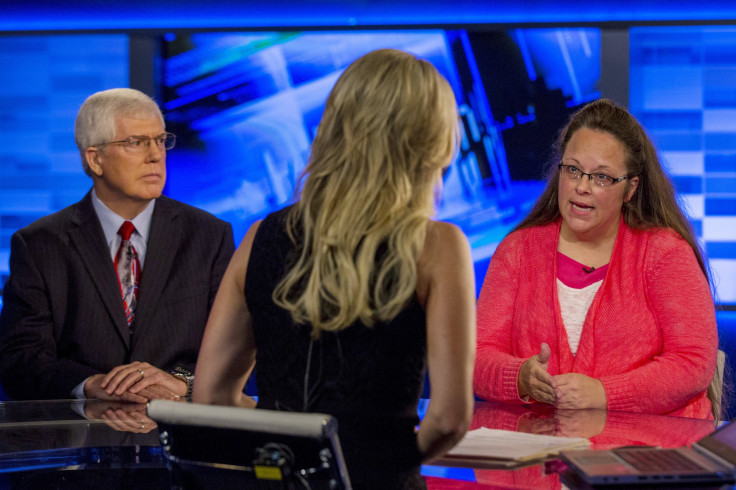 By Steve Bittenbender
LOUISVILLE, Kentucky (Reuters) -- A federal judge on Wednesday denied Kim Davis a stay of his order requiring her office to issue marriage licenses to all eligible couples who want one, the latest setback for the Kentucky county clerk who went to jail rather than issue licenses to gay couples.
Lawyers for couples suing Davis have said that since her return to work, the Rowan County clerk has interfered with the issuance of marriage licenses in violation of orders by U.S. District Judge David Bunning's in Louisville.
An attorney for Davis has said she has made a good-faith effort to comply with Bunning's orders. She has said licenses granted by her staff are invalid because she has not given them that authority.
Davis, 50, has refused to issue any marriage licenses since the U.S. Supreme Court ruling in June that made gay marriage legal across the United States. Her stance has made Kentucky the latest flashpoint in the U.S. debate over same-sex marriage.
Davis has said her beliefs as an Apostolic Christian prevent her from issuing marriage licenses to same-sex couples. She has asked Bunning repeatedly to put his orders requiring the issuance of marriage licenses on hold while she appeals.
Her latest request stems from Bunning's order making it clear that his decision applied to all eligible couples and was not limited to the same-sex and opposite-sex couples who had sued Davis.
Bunning said Wednesday that without the clarification he would have "left other eligible couples at the mercy of Davis' 'no marriages policy.'"
"Such an approach would not only create piecemeal litigation, it would be inconsistent with basic principles of justice and fairness," Bunning wrote.
On Monday, lawyers for the couples suing Davis said she had made material changes to the marriage license forms after her return to work on Sept. 14 that left questions about their legality.
The lawyers asked Bunning to make the clerk use the previous format and reissue those given under the altered one, saying the office should be put in receivership and fines assessed if interference continues. He has not ruled on that request.
Davis spent five days in jail earlier in September. Her release was conditioned in part on Davis not interfering directly or indirectly with the issuance of licenses.
Her stance has won support from some conservative Republicans, who say the issue is one of religious freedom. Republican presidential candidates Mike Huckabee and Ted Cruz have been among those rallying to her cause.
(Reporting by Steve Bittenbender; Writing by David Bailey; Editing by Jonathan Oatis)
© Copyright Thomson Reuters 2023. All rights reserved.