Kim Jong-il's Body to Lie in State 'Eternally'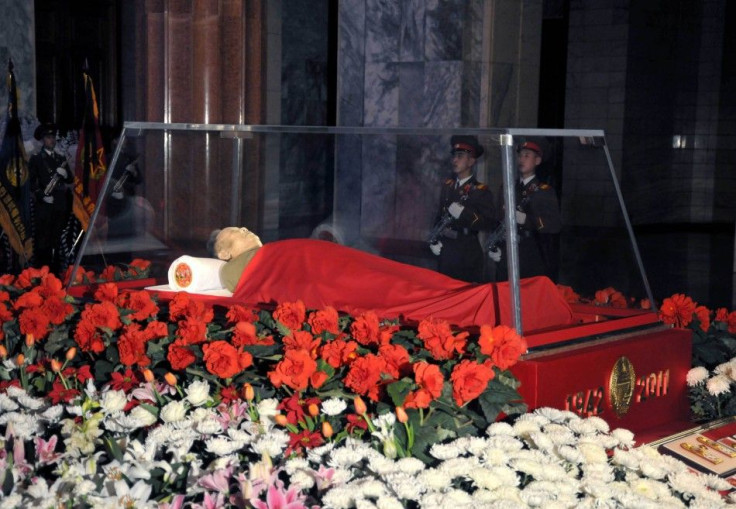 The body of Kim Jong-il will permanently lay in state in Pyongyang, North Korea.
The deceased leader's body was placed inside a glass coffin at the Kumsusan Memorial Palace immediately after his death on Dec. 17, and on Thursday the ruling Communist Party declare that it would stay in the building where his father Kim Il-sung also lies on display.
The government also named Kim the Eternal Leader of North Korea and said on state television that statues of Kim and and towers to his immortality will be built across the country.
The deification of leaders is now a running thread in North Korea; Kim Il-sung, the deceased founder of the nation, still holds the title of President, which he will for eternity.
The non-burial of the members of the Kim dynasty is part of the great Communist tradition. Mao Zedong, the founder and Chairman of the Communist Party of China and also a friend of North Korea also lay in state. His body is on display at the Mausoleum of Mao Zedong in Beijing's Tiananmen Square.
The building is open to the public and thousands of people come to see his body everyday. Mao rests inside a crystal coffin and, like Kim Il-sung, is draped in his nation's flag.
The other famous embalmed Communist is Vladimir Lenin, leader of the October Revolution and the first head of the Soviet Union. Lenin's Mausoleum, also known as Lenin's Tomb, sits in Moscow's Red Square. His body has been on display since 1924.
Kim Jong-il died of a heart attack after ruling North Korea of 17 years. His son, Kim Jong-un, is now the Supreme Leader of the country.
© Copyright IBTimes 2023. All rights reserved.