Kindle Fire HD Will Offer Opt-Out For Ads: Is Amazon Moving Towards A Freemium Model For Its Hardware?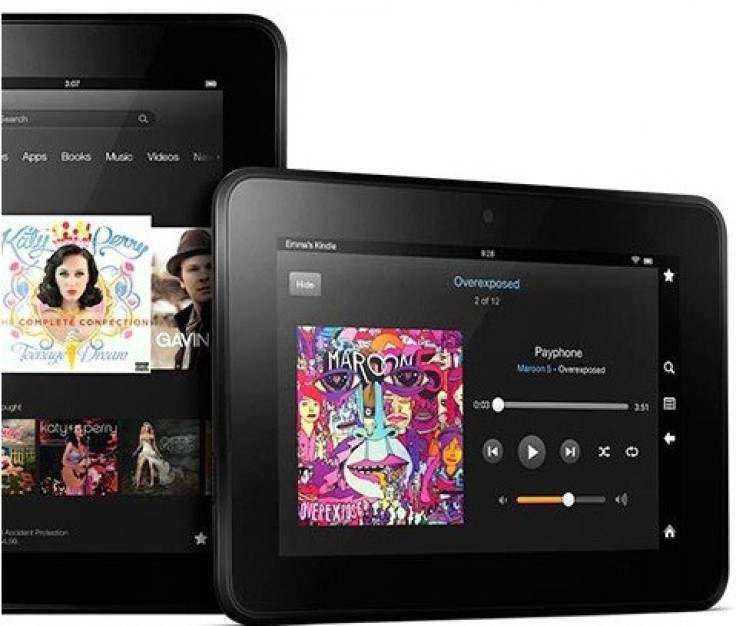 Just a week after Amazon.com Inc. (Nasdaq: AMZN) unveiled its new HD line of Kindle Fires, the company is reversing its decision to supplement the devices' low cost with ad-based support. In a statement emailed to the press, Amazon said that it will now give customers the option to opt out of advertisements for a premium price of $15.
Ranging from $159 to $599, Amazon's new tablets appeared to be a bold move to rival Apple's (Nasdaq: AAPL) current dominance in the tablet market with its innovative and highly-acclaimed -- albeit pricey -- iPads. Amazon's solution to keep costs lower for its new lineup of HD tablets was to rely on advertising support, a decision that rankled many critics who would rather pay slightly more for an experience unfettered by constant sponsored messages.
"We know from our Kindle reader line that customers love our special offers and very few people choose to opt out," the Seattle-based online retailer said in a statement. "We're happy to offer customers the choice."
Ads in Amazon's cheaper Kindle models appear on the device whenever the screen locks or enters a screensaver mode. In addition to its tablets, Amazon also offers its classic e-reader, the Kindle, at two different price points with a $20 discount for ad-dependent models.
Interestingly enough, despite the change, all Kindle Fire customers will still end up buying the same devices at those same prices. Those who choose to opt out of advertisements will thus purchase the discounted Kindle Fire and pay an additional premium to opt out of the feature.
This type of strategy - selling hardware or software that is significantly cheaper (or free entirely) than competing products with features designed to monetize users in additional ways following the initial acquisition - has come to dominate the entire app and internet economy. Companies like LinkedIn and Facebook (despite the latter's current struggles at the stock market) have shown the unprecedented success that this type of business model can have in the digital age.
But until recently, hardware itself has been resistant to this type of innovation given the obvious limitations that persist in a marketplace that traffics in physical media. It's harder to toss out smartphones, tablets, or gaming consoles with the same abandon as digital copies of "Angry Birds," for instance, since it costs so much more to manufacture a single iPhone than it does to pixelate one more wide-eyed green pig.
Fierce competition in the tablet market may come to change that, however. As Amazon's pricing plans reveal, companies are realizing that they will have to offer lower prices in addition to enhanced features with each new generation of their tablet hardware. Just days after Amazon unveiled its new Kindle Fire line-up, for instance, the popular American toy retailer Toys "R" Us took a stand against its largest competitor by unveiling a pared-down cheaper tablet made exclusively for children. And from a subscription perspective, at the beginning of this previous summer, Microsoft (Nasdaq: MSFT) tried to beat Sony (NYSE: SNE) to the punch by offering the cheapest current-generation console possible with its new $99 Xbox 360 subscription-based console service.
Of course, the beauty of Microsoft's plan there was that the new, apparently cheaper version of the Xbox 360 actually cost users more money if the entire subscription period is taken into consideration. But that's the point: luring users in with cheaper hardware at the outset will only help tech giants like Microsoft and Amazon increase their user base and give them greater opportunities to maximize profits from every individual customer in the future.
When the new Amazon tablets were first announced last week, CEO Jeff Bezos himself admitted the company would only break even or possibly lose money with the new devices priced as they are. Instead, the company is hoping to recoup the losses through in-device transactions such as app sales, e-books, and, quite possibly, enhanced freemium content strategies.
© Copyright IBTimes 2023. All rights reserved.
FOLLOW MORE IBT NEWS ON THE BELOW CHANNELS