Kingfisher Airlines Extends Lockout Till Oct 12; Staff Stage Protest March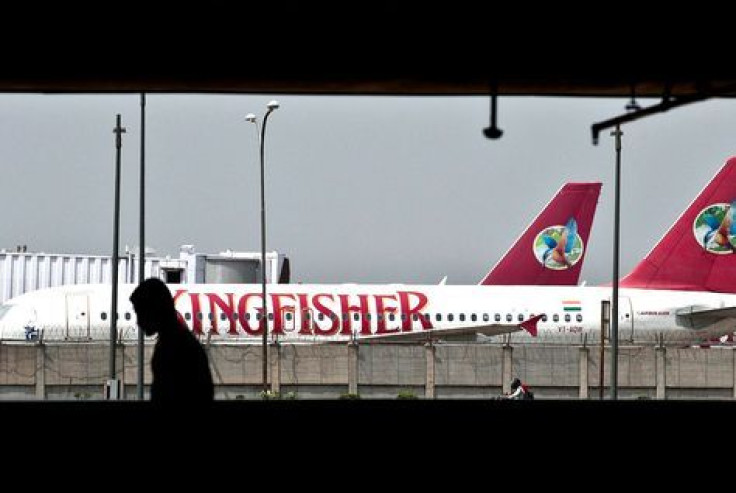 Kingfisher Airlines extended partial lockout till Oct.12, as talks between the management and employees failed to resolve the impasse over salaries that have not been paid for over six months. Employees of the air carrier continued to press forward their demands as they staged a protest march in Mumbai Friday.
The airline, controlled by liquor baron Vijay Mallya that never reported a profit ever since its inception in 2005, has remained closed from Oct.1 after the protests by the staff turned violent.
Spokesman Prakash Mirpuri said in a statement late Thursday: "We regret that the illegal strike has still not been withdrawn and normalcy has not been restored in the company, thereby continuing to cripple and paralyze the working of the entire airline."
The extension of shutdown adds pressure on Chairman Vijay Mallya who seeks investments to avert collapse of his airline saddled with 86 billion rupees debt ($1.6 billion) and losses, Bloomberg reported.
Besides, Kingfisher must convince the authorities that its aircraft are safe and salary payments are arranged before it can resume operations.
As a fallout of the worsening crisis, the wife of an airline employee committed suicide reportedly due to the financial stress following the non-payment of salary to her husband.
The airline also announced to the National Stock Exchange that Company Secretary Bharath Raghavan quit the company.
Reportedly, Kingfisher Airline CEO Sanjay Agarwal and Executive Vice President Hitesh Patel met Delhi-based staff including engineers and pilots to convince them to rejoin duty, a leading Indian business daily reported.
Though the management offered March salary to employees and assured to pay the remaining six months' salary after the airline was recapitalized, the offer was rejected by the employees for the second time in two days.
The worsening crisis has forced Kingfisher's lenders to hold an emergency meeting in Mumbai to discuss the evolving situation.
Civil Aviation Minister Ajit Singh expressed doubts if the carrier facing a lockout would resume operations soon.
Kingfisher plans to use 600 million rupees that lie in frozen bank accounts to pay staff, according to the industry regulator said. Tax officials froze the airline's accounts earlier this year after it failed to deposit taxes deducted from staff, Reuters has reported.
Kingfisher's employee expenses for the year that ended in March totaled 6.7 billion rupees though many employees have left the company since then.
The stock continued to post losses for the fifth straight day Oct.5 on the Bombay Stock Exchange, trading at 13.25 rupees, down 65 paise, or 4.68% lower than the previous close.
Update: Bankers have agreed to release funds to the tune of Rs 60 crore from escrow accounts Thursday that may enable Kingfisher Airline to pay some of the staff salaries.
© Copyright IBTimes 2023. All rights reserved.